The Lake Junaluska Golf Course is a scenic, fun and challenging 68 par course with incredible views of Lake Junaluska and the surrounding mountains.
Book a tee time during a visit to Lake Junaluska or play year-round with a golf membership. The course is open to the public and we welcome families.
5,108 yard course
Open daily, weather-permitting
Welcomes players of all skill levels and ages
Available for tournaments
Junior golf program (Learn more.)
On-site pro shop with apparel, golf equipment and more
Call 828-456-5777 for a tee time, or book your tee time online.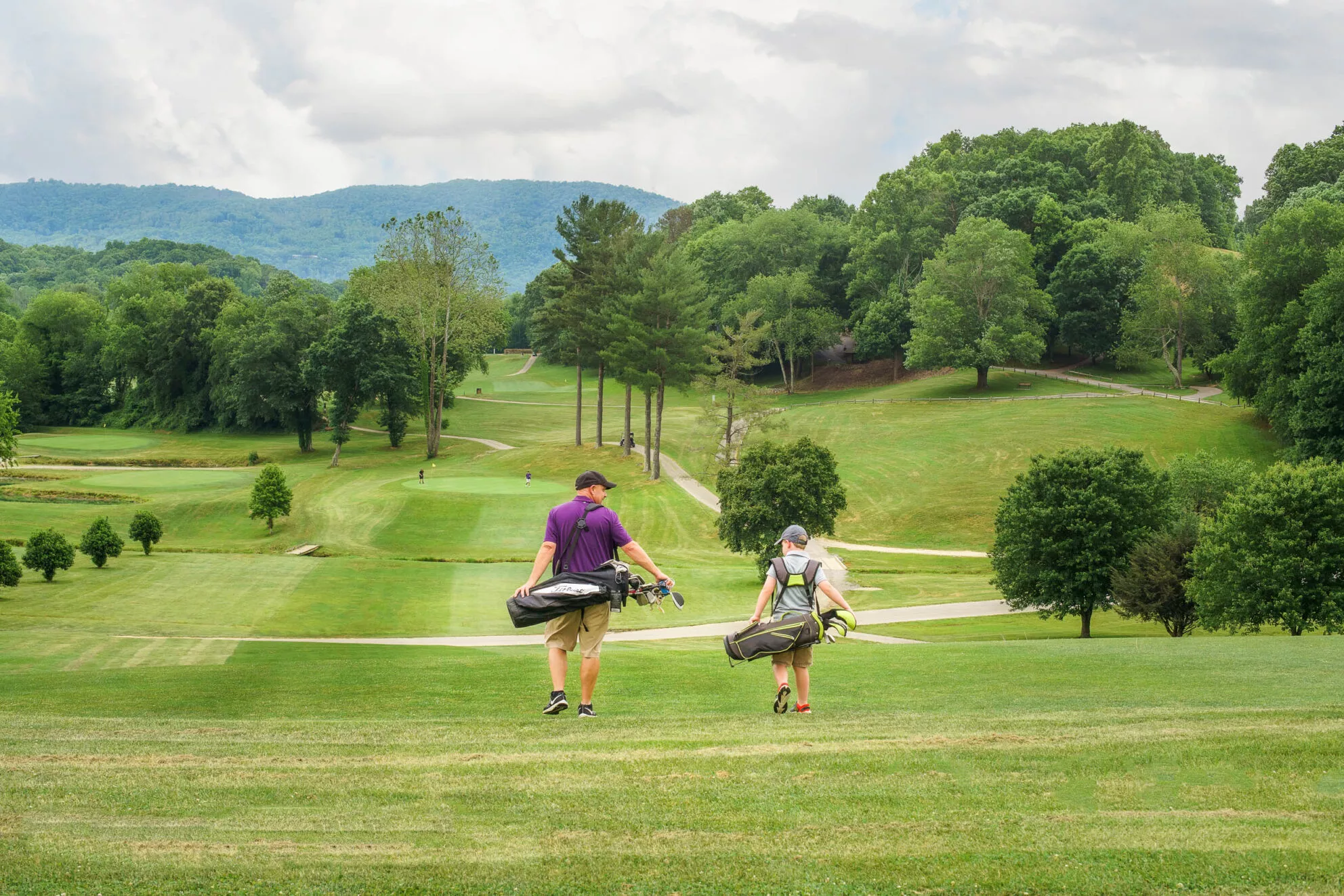 Spring & Summer Hours
Pro Shop & Golf Course
7 a.m.-7 p.m. Monday-Saturday
10 a.m.-7 p.m. Sunday
**Golf Course hours of operation will be weather dependent. Please call 828-456-5777 to check hours of operation before you arrive.
Adult (18-59)
$46 for 18 holes with cart
$30 for 9 holes with cart
Senior (over 60)
$40 for 18 holes with cart
$26 for 9 holes with cart
Active Military/Veteran/1st Responders Rate
$37 for 18 holes with cart
$24 for 9 holes with cart
College (with I.D.)
$37 for 18 holes with cart
$24 for 9 holes with cart
Walking Rate
$25 for 18 holes
$15 for 9 holes
Cart Rate
$22 for 18 holes
$11 for 9 holes
Please note everyone over age 7, including seniors and college students will pay the adult rate for walking.
All fees are per person.
No Refunds – Rain checks available.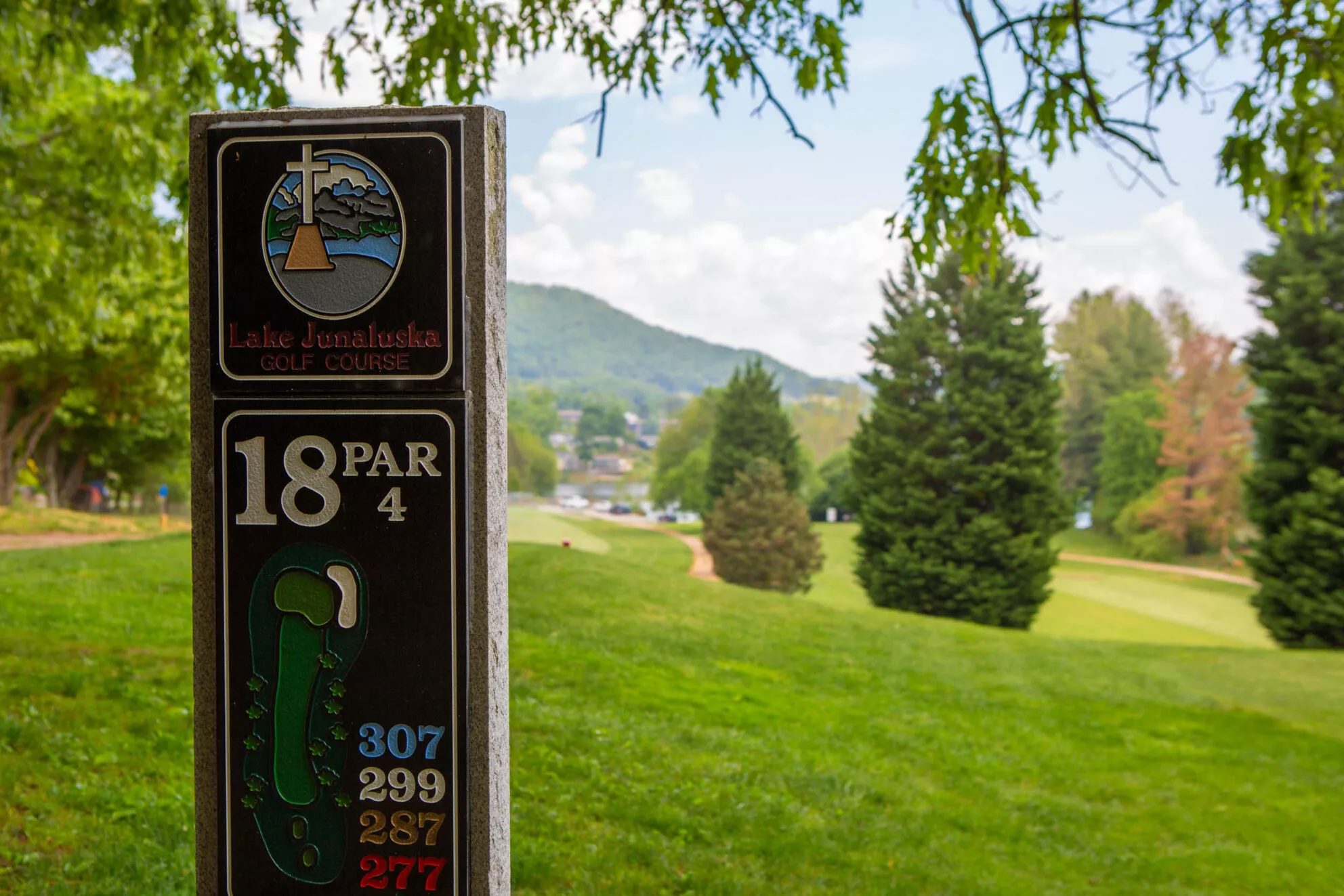 Greens Fee Plan Categories
All fees are subject to change without notice. All fees must be paid in full.
Individual Regular Membership (Ages 18-59) $1055
Individual Senior Membership (Ages 60 and over): $945
Individual Non-Resident Membership (6 months): $750
Individual Junior Membership (17 and under): $340
Individual Add-On (Spouse or children reside in the same household): $416
Greens Fee Plan Rates
Green Fees: Free
9 Hole Cart Fee: Identical to public rate (subject to seasonal changes)
18 Hole Individual: Identical to public rate (subject to seasonal changes)
Membership is good for one calendar year from date of purchase. Membership cart and green fees do not affect tournament entry fees.  
Call 828-456-5777 or stop by the golf course to sign up for a greens fee plan.
Junior Golf Program
The Lake Junaluska Golf Course offers a weekly junior golf program. Former Professional Golfer Kayla Sciupider leads instruction, teaching everything from basic technique to on-course play. Powered by Operation 36, the program takes skills learned during practice to the golf course in order to best improve your child's game.
Operation 36 is a golf program that is centered on a playing component in which learners try to shoot Par 36 or better, working from the green back toward the tee. In addition to the playing component, the junior golf program will support the playing component with coaching programs. Once enrolled in the program, your child will be invited to join the Operation 36 App in order to track progress.
Where: Lake Junaluska Golf Course
When: Weekly on Wednesdays
Time: 4-5 p.m.
Cost: $25 per child
Ages: Children of all ages are welcome
How to Register: To register and reserve a spot, call the Lake Junaluska Pro Shop at 828-456-5777.  Limited to the first 10 participants.