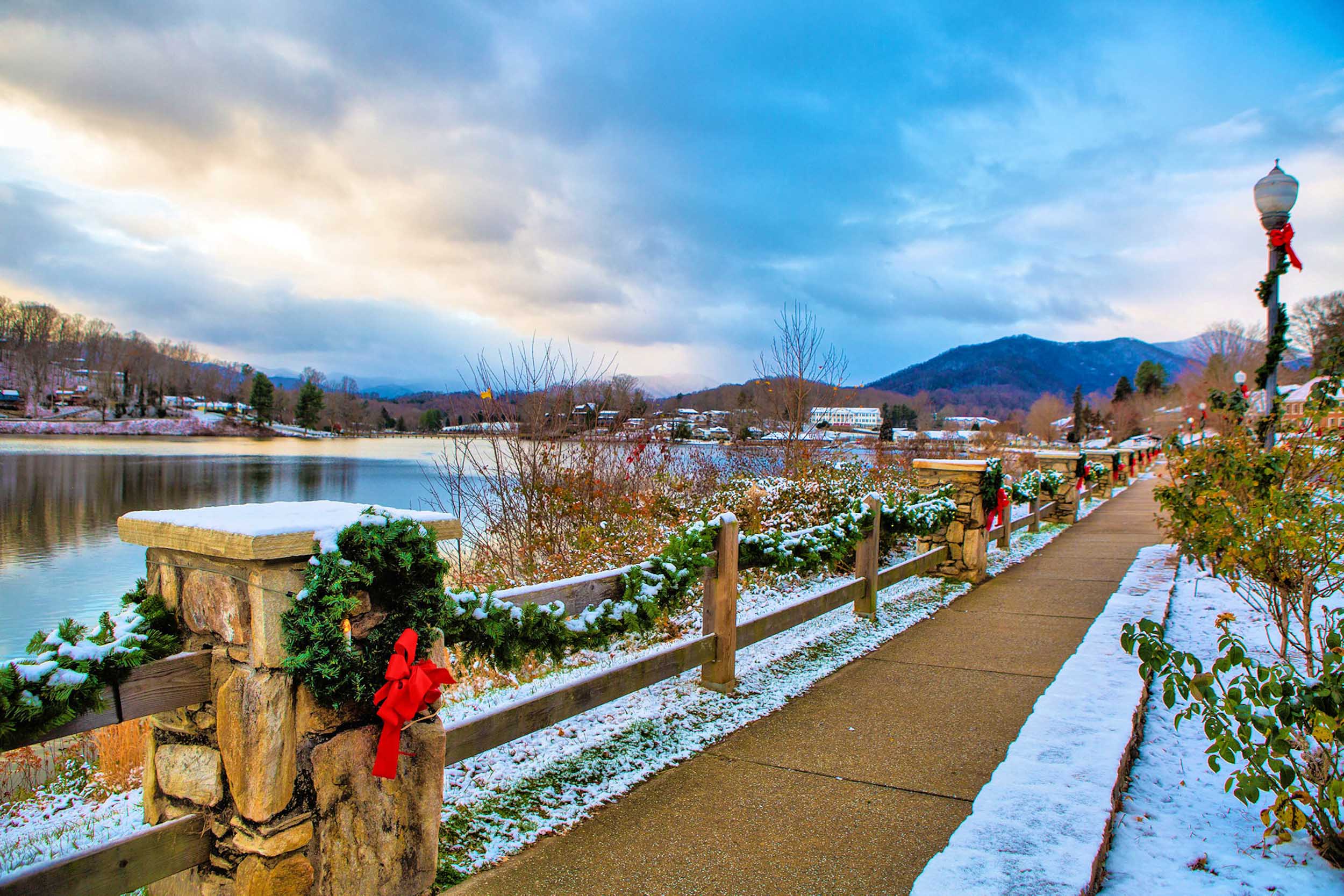 The Holidays
at Lake Junaluska
Let the nostalgic charm of Appalachian hospitality warm you this holiday season at Lake Junaluska.
Get in the holiday spirit during our celebration from November 1, 2022 – January 1, 2023.
Our lakeside village is merry and bright, decorated by more than 70 Lake Junaluska community volunteers. You'll delight in viewing Christmas lights, garlands and wreaths on everything from lampposts to gazebos.
Located near Maggie Valley and Waynesville, we're just a short drive from Asheville and Biltmore. Come for a peaceful getaway, a ski weekend, or plan a special family gathering Christmas week or New Year's Eve. You can also book a Holiday Party at Lambuth Inn for your group!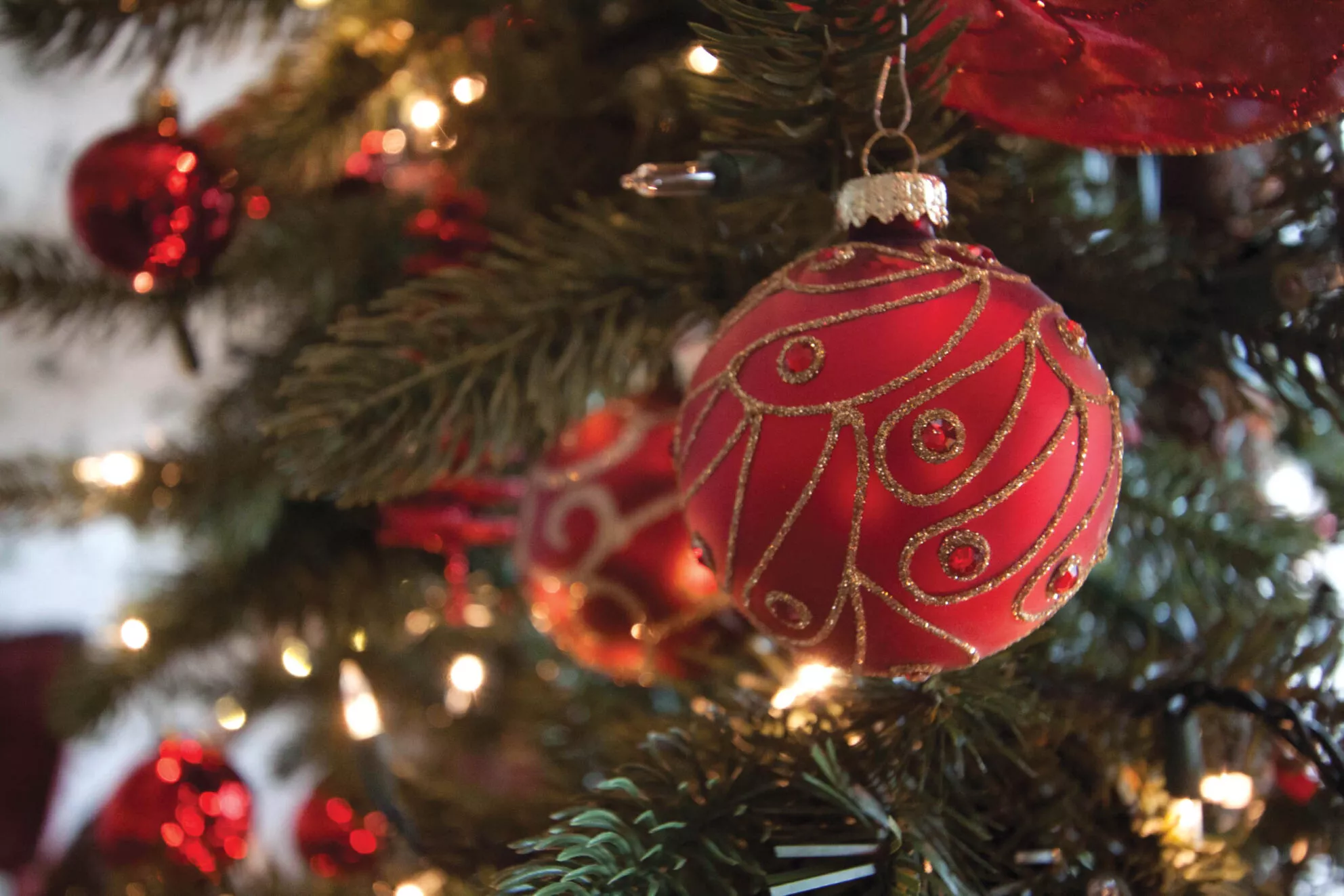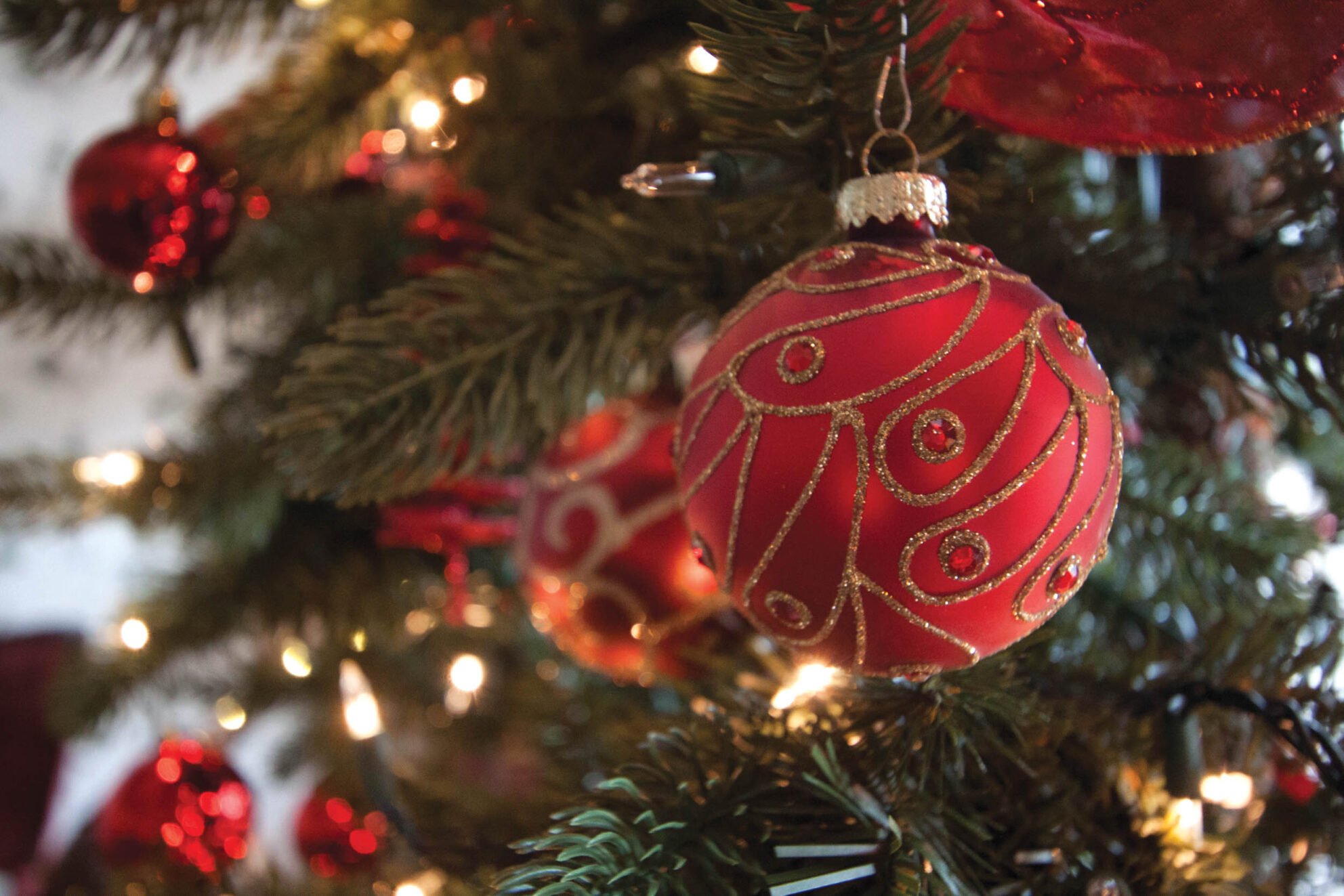 2021 Travelers' Choice by Tripadvisor
With hundreds of acres to explore, our mountain lake destination features a variety of places to stay – including a contemporary hotel, historic inn and vacation rental homes. Both The Terrace Hotel and Lambuth Inn received the prestigious 2021 Tripadvisor Travelers' Choice Award for being rated in the Top 10% of Hotels Worldwide!
The Terrace Hotel
The Terrace Hotel is one of the few lakeside hotels in the Blue Ridge Mountains of North Carolina. Find plenty of rocking chairs on the hotel's deck to enjoy the peaceful lake and snowy mountain views. Rates include a hot breakfast at The Terrace Hotel dining room with scenic indoor and outdoor seating, and access to many lakeside amenities. Learn more about The Terrace Hotel and check availability online now.
Lambuth Inn
The historic Lambuth Inn sits high on a hill above the lake with a "national park lodge" feel. Built in 1921, the hotel's recent renovations have added modern guest comforts while preserving the charm of the beloved landmark. Adjacent is Inspiration Point with the best views overlooking the lake and Great Smoky Mountains. Read more about Lambuth Inn and check availability online now.
Thanksgiving at Lake Junaluska
Date:

November 24, 2022

Location:

Terrace Hotel Dining Room

Categories:
We have much to be thankful for and invite you to join us this Thanksgiving at Lake Junaluska. Enjoy a Thanksgiving feast at The Terrace Hotel dining room and a peaceful waterfront setting with a lakeside trail to walk off the extra calories, rocking chairs for relaxation and plenty of festive holiday decorations. Stay the weekend or visit just for a day.
View Event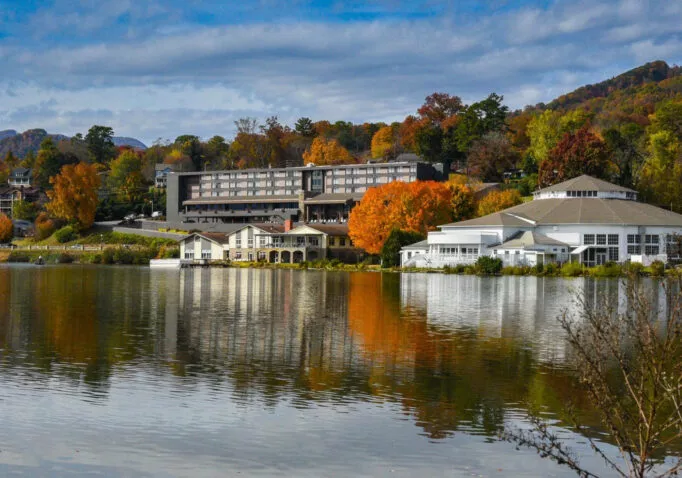 Balsam Range Art of Music Festival
Date:

December 2, 2022–December 4, 2022

Categories:
Hosted by internationally acclaimed group Balsam Range, the Art of Music Festival features concerts by some of the top bluegrass and acoustic musicians in the nation.
View Event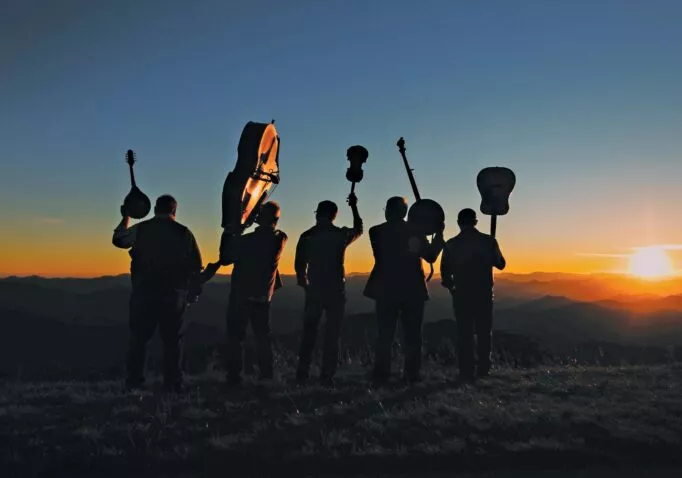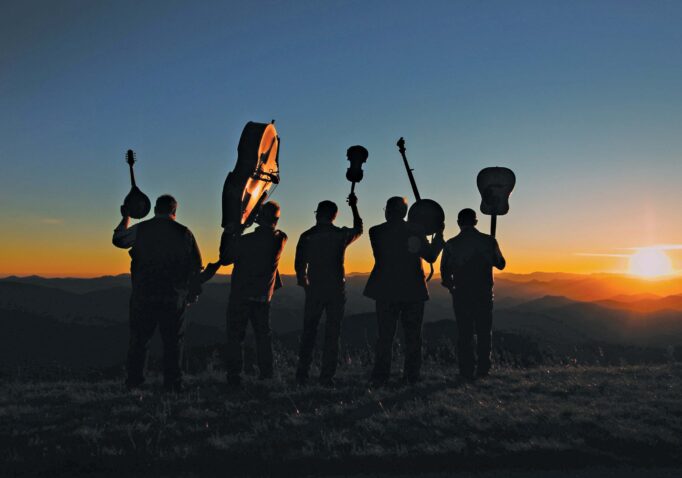 Christmas at Lake Junaluska
Date:

December 8, 2022–December 11, 2022
Enjoy a special weekend of holiday events, music and more, and see Lake Junaluska decorated for the holidays during our Christmas at Lake Junaluska festivities.
View Event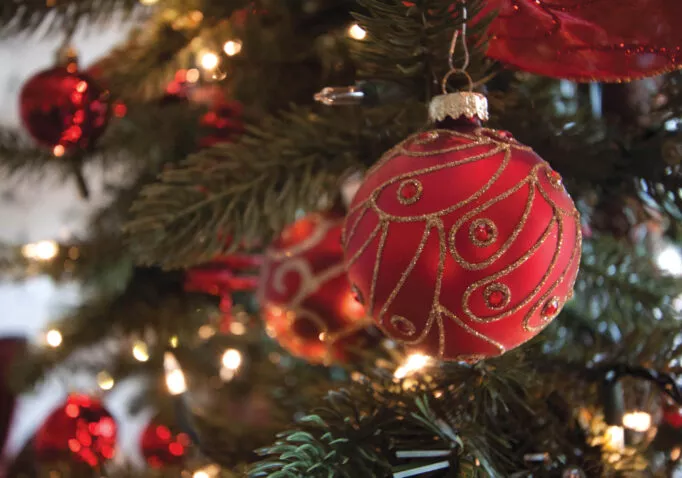 Thanksgiving at Lake Junaluska
Let us do the cooking and cleaning while you enjoy a special Thanksgiving getaway with your family. Book a two-night minimum stay anytime from November 22 – 28 at The Terrace Hotel or Lambuth Inn, savor our scrumptious Thanksgiving Dinner Buffet at The Terrace Hotel dining room, plus get daily hot breakfasts and a Lake Junaluska book. See Lake Junaluska decorated for the holidays and take in all our area has to offer.
Please note that no departures are allowed on Thanksgiving Day, November 24. Guests who purchase the Thanksgiving at Lake Junaluska package do not need to book holiday buffet reservations separately; holiday buffet reservations will be made when the package is booked. 
Availability:

Fall,
Holidays,
Winter

Pricing Information:

Lodging packages for two people start at $343.90 + tax and gratuities for a lakeside room at The Terrace Hotel, $303.90 + tax and gratuities for a northside room at The Terrace Hotel, and $283.90 + tax and gratuities for a room at historic Lambuth Inn. (Ask us about adding additional nights or guests to your package!)

Booking Details:

Please call 800-222-4930 to book a Thanksgiving Lodging Package.
2022 Balsam Range Art of Music Festival Package
Spend the weekend Dec. 2-4, 2022, at scenic Lake Junaluska during the Balsam Range Art of Music Festival! The 2022 Festival Lodging Package includes for two people:
• Two nights of on-site festival lodging at The Terrace Hotel or Lambuth Inn (Dec. 2-4, 2022) (based on double occupancy)
• Tickets for two people for special reserved seating for concerts at Lake Junaluska on Dec. 2 & Dec. 3, 2022
• Breakfast on Dec. 3 & Dec. 4, 2022
• Festival workshops on Dec. 3, 2022
• Lake Junaluska Gift
Availability:

Holidays,
Winter

Pricing Information:

Lodging packages for two people start at $614 + tax for a lakeside room at The Terrace Hotel, $594 + tax for a northside room at The Terrace Hotel, and $585 + tax for a room at historic Lambuth Inn. (Ask us about adding additional nights or guests to your package!)

Booking Details:

Book a festival lodging package online or call 800-222-4930