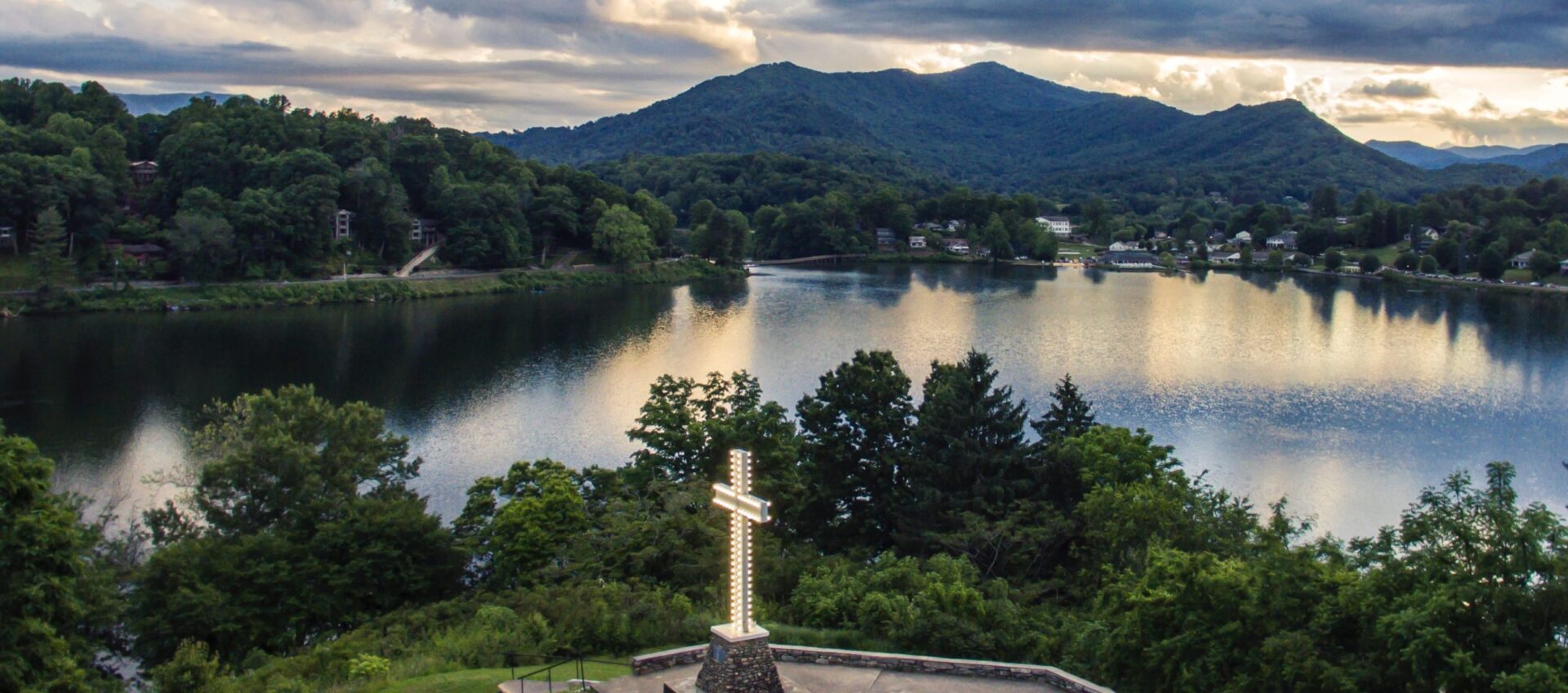 Ideally situated in a mountain valley, Lake Junaluska Conference and Retreat Center provides a welcome change from the hustle and bustle of everyday life.
Escape to one of our lakeside hotels or relax on a front porch rocking chair, gazing at the lake and the panoramic vistas of the Blue Ridge and Great Smoky Mountains. You'll enjoy comfortable summers, followed by glorious falls. While winter's snowfall blankets local mountains, our valley is mostly mild and easy to access. Spring is always spectacular with the abounding beauty of trees and flowers.
Steeped in Wesleyan heritage, Lake Junaluska first opened its doors at Stuart Auditorium in 1913. We are historically connected to The United Methodist Church and open to the public year round for conferences, group retreats, recreation, weddings, reunions, family events and vacations.
For more than 100 years, we have been a home for people seeking relaxation, recreation and renewal. Whether for a weekend getaway or week-long conference let us be your place in the mountains. Come and join us this year!
91 N. Lakeshore Dr.
Lake Junaluska, NC 28745
(828) 452-2881
Mission
The mission of Lake Junaluska is to be a place of Christian hospitality where lives are transformed through renewal of soul, mind and body.
Vision
Our vision is to become known as the most welcoming and inviting place for personal renewal in the United States.
Aspirations
To accomplish our mission and vision we aspire:
To preserve and enhance the lake and grounds so that more people will recognize the natural beauty of God's creation.
To be a Conference Center that rivals hospitality industry leaders by exceeding guests' expectations through excellence in staff and facilities.
To be the place that connects more youth to Christ through meaningful ministry, recreation and education programs.
To identify, uphold and strengthen the Lake Junaluska tradition of implementing innovative shared experiences for both individuals and families that celebrate faith, recreation, the arts and education.
To be an involved, inclusive community that provides the highest quality of life for our residents and guests.
Core Values
We are driven by our mission.
We are knowledgeable and engaged.
We are welcoming to all people.
We are people of integrity.
We are constantly improving.
Lake Junaluska Strategic Vision
In March of 2020, the Board of Trustees adopted a strategic vision for the future of Lake Junaluska. This expansive document was based on two years' worth of input from community members and stakeholders in the ministry of Lake Junaluska. Click here to download a full copy of the vision document (PDF).
Lake Junaluska offers programs, retreats, spiritual events, conferences, devotions and worship services in connection with our mission: to be a place of Christian hospitality where lives are transformed through renewal of soul, mind, and body.
Yes.

No, individuals, families and groups are welcome to stay at Lake Junaluska for vacations, meetings, reunions or weddings.

Yes, the Lake Junaluska Campground is full-service.

Absolutely. Lake Junaluska is open year-round, and lodging is available at our lakeside hotel, historic inn, vacation rentals and campground.

No, all are welcome at Lake Junaluska.

Books available at Junaluska Gifts & Grounds, located in the Harrell Center, explore Lake Junaluska's history, and a community library is next door. There are also historical markers around the Lake Junaluska grounds, and guides aboard summer lake cruises history and stories of the lake during seasonal tours.

For more information, please visit our Things to Do page.

Yes, fishing is permitted in designated fishing areas with a valid N.C. fishing license.

Please call our reservations team at (800) 222-4930 to learn more current lodging packages and tickets to area attractions.

We are centrally located in the Southeastern United States near Great Smoky Mountains National Park. Visit our page for directions to Lake Junaluska from Asheville, Knoxville and Atlanta.

Download one of our maps or request a map at the front desks to help navigate your way around Lake Junaluska.

Access to Lambuth Inn via the bridge over the dam is weather dependent. Lambuth Inn can always be accessed by using our main entrance at 91 N. Lakeshore Drive, then following wayfinding signs.

Lake Junaluska is a non-profit organization. To view a copy of the IRS 990 form, please contact us.