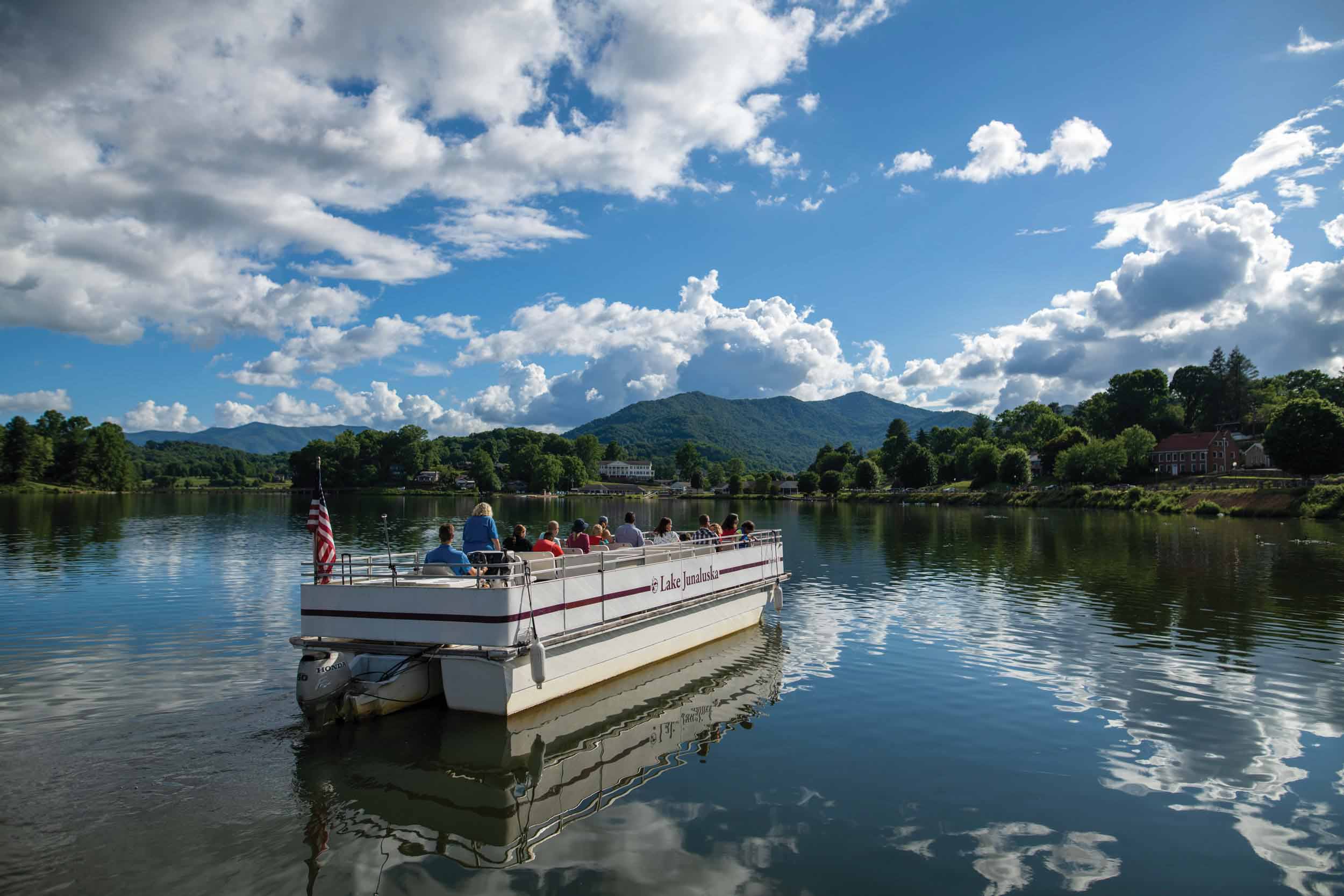 Reconnect by hosting a reunion at Lake Junaluska. Nestled in the mountains of Western North Carolina, Lake Junaluska offers something fun for everyone, from guided lake cruises aboard the Cherokee IV pontoon boat and s'mores nights at the firepit, to gentle lake kayaking, canoeing or paddleboarding, corn hole and miniature golf.
From our scavenger hunts and garden tours to an array of activities at our Independence Day Celebrations and Summer Activities Program, there's always something to do. And although close enough for easy day trips to top regional attractions and quaint mountain towns, your favorite moments just might be spent in our lakeside rocking chairs, watching the sunset over the mountains.
Reunion planners choose from outdoor meeting venues such as the lakeside tent, York Lakeside Deck or Nanci Weldon Gym, or meeting rooms at The Terrace Hotel or Lambuth Inn. The Kern Center and Harrell Center offer lake views and patios. Custom meal plans, picnic box lunches and catered meals for private events are all available. Choose from accommodations at our lakeside hotel and historic inn, or reserve one or more vacation rental homes.
Enjoy sacred family time at Lake Junaluska with a family reunion.  Lake Junaluska is also a great destination for reconnecting with classmates, coworkers, friends, military groups and more. Plan your reunion today.
Location & Lodging
Lake Junaluska offers an array of accommodations with our lakeside hotel, historic inn, vacation home rentals and more. Your family may enjoy reserving a block of rooms as well as meeting space to gather or dine. You'll be close to all there is to do at Lake Junaluska from walking the lakeside trail, swimming at the pool, paddling across the lake, taking a guided boat tour, playing a round of golf (or mini golf!) and more.  See our accommodations and things to do, and learn more about our catering options.
Convenient to the Asheville Regional Airport and centrally located between Charlotte, Greenville, Knoxville and Atlanta, Lake Junaluska is a good location for day trips to the Great Smoky Mountains National Park, Biltmore Estate, Blue Ridge Parkway, Chestnut Mountain Nature Park and other nearby attractions. Plus, just a few miles away are the charming towns of Waynesville and Maggie Valley.  Learn more at Visit NC Smokies.
Nestled in the heart of Lake Junaluska, the lakeside Terrace Hotel is convenient to the Harrell Center, Stuart Auditorium and the Rose Walk. Come relax in a rocking chair on one of the balconies or read a book by the large fireplace in the spacious lobby.
Place to Connect
"With so many chairs all around the common areas and the rocking chairs outside, we could just sit down together. and when someone would go by, we could connect. The setting was ideal for that, and there were beautiful views all the time." – Alice W., Summer Reunion 2022
Family Bonding
"It was a wonderful family get together at Lake Junaluska! A friend of ours recently hosted a family reunion there, and she told me it was the best family bonding they ever had. Now they come every year. I think Junaluska hits a certain sweet spot in the world of reunions." – Cissy Taft Hicks
Fun, Love & Laughter
"We always seek to find common ground as a family and common space to enjoy time with each other. It's the fun, it's the love, and it's the laughter, and Lake Junaluska was a great space for that." – Latarsha S., Summer Reunion 2021
From "Joyful Reunion" in Discover Lake Junaluska 2022