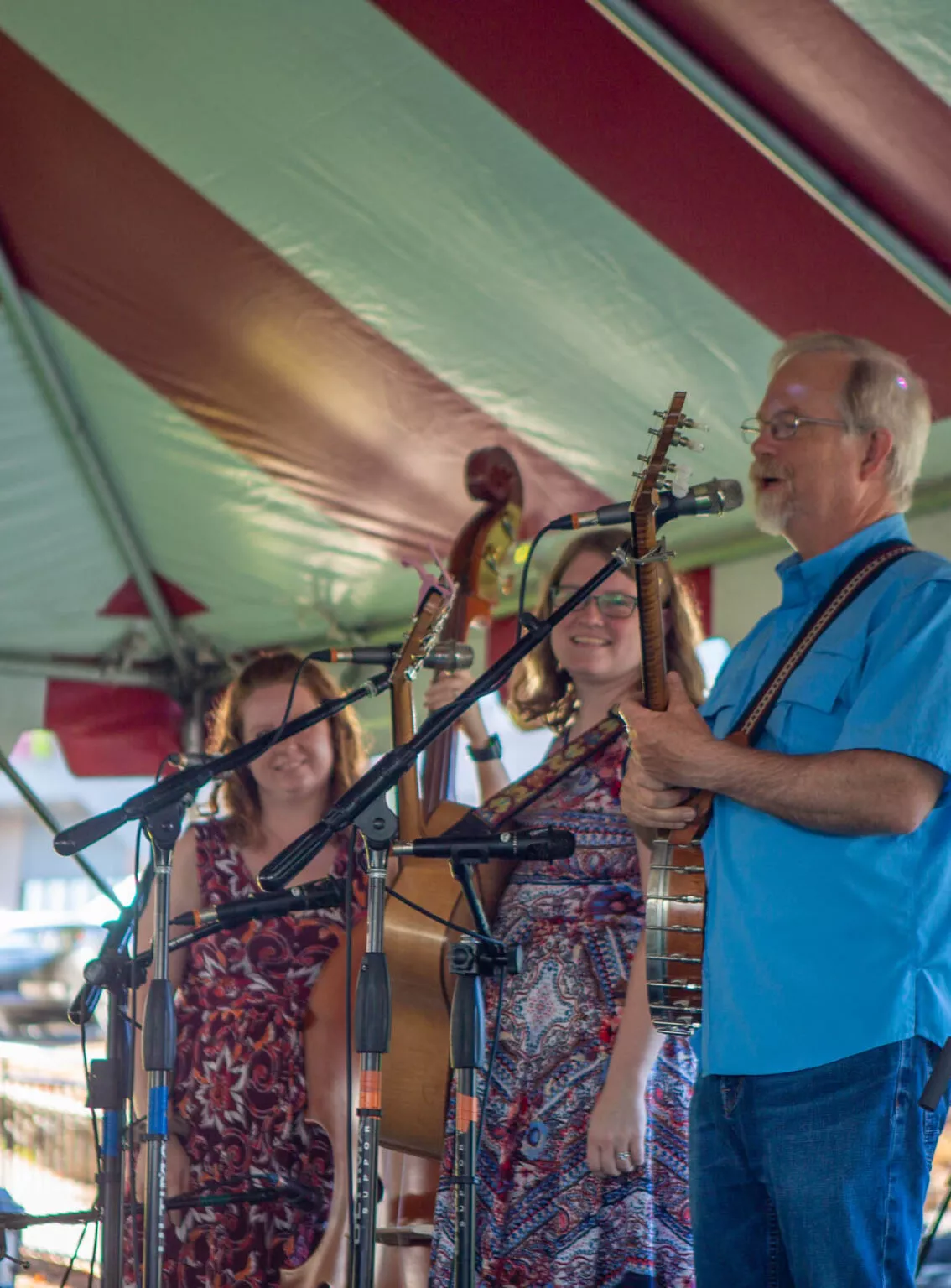 Book your stay at Lake Junaluska for the Smoky Mountain Folk Festival! The traditional Southern Appalachian sounds of string bands and clog dancing will echo off the scenic hills bordering the cool waters of Lake Junaluska on Friday, Aug. 26, and Saturday, Aug. 27, as the performers of the 51st Annual Smoky Mountain Folk Festival celebrate the culture and heritage of the Appalachian region. Festival concert tickets are on sale now, and lodging is still available at Lake Junaluska. Book lodging online or call 800-222-4930 for reservations.
Experience a true Southern Appalachian tradition with the 51st Smoky Mountain Folk Festival in the historic, 2,000-seat Stuart Auditorium on the grounds of Lake Junaluska, North Carolina. Each night features free watermelon along with an open tent show on the lawn beginning at 5 p.m. going to 6:30 p.m., then the main stage begins at 6:30 p.m. and continues until 10:30 p.m. In addition, Appalachian Smoke BBQ Food Truck will be in attendance each day (Aug. 26 & 27) from 4 p.m. to 7:30 p.m.
The festival welcomes an outstanding array of the region's finest tradition performers including fiddlers, banjo players, string bands, ballad singers, buck dancers, and fabulous square teams as well as the unique sounds of dulcimer, harmonica, Jew's harp, bagpipes, and even spoons. The performers of the Smoky Mountain Folk Festival are continuing a legacy of traditional music by sharing it with visitors to the festival and inspiring a new generation of artists as they swap tunes under the open tents on the lakeshore. (See the festival performance schedule!)
"The festival is about continuing our region's rich tradition and keeping our music and dance alive. We present the very best of Appalachian music, story, song, and dance," said Joe Sam Queen, Festival Director.
Now in its 6th decade, the festival coincides with a time when communities would gather at harvest time. The festival has become a family and community gathering of sorts with performers returning yearly to see old friends and make new acquaintances and families returning with new generations to enjoy what is truly one of the finest cultural events of the year.
Tickets
Main show tickets are $15 at the door, $12 in advance, and children 12 and under are free. Advance tickets can be purchased at Bethea Welcome Center at Lake Junaluska.
Lodging
Spend the entire festival weekend at Lake Junaluska! Book lodging online or call 800-222-4930 to make a reservation.
Event Details:
Date:

August 26, 2022–August 27, 2022

Location:

Stuart Auditorium and Outdoor Tent

Categories:
Nestled in the heart of Lake Junaluska, the lakeside Terrace Hotel is convenient to the Harrell Center, Stuart Auditorium and the Rose Walk. Come relax in a rocking chair on one of the balconies or read a book by the large fireplace in the spacious lobby.
2022 Performers List*
Early Tent Show 
5-6:30 p.m. | Both Nights
Bean Sidhe, a great Celtic Band
Sadie Wicker and Friends
Don Pedi, a fabulous dulcimer player
The Trantham Family
Dr. Mack Snoderly
& others
Friday, Aug. 26 - Main Stage
6:30 p.m
Lorrain Conard and Ray Chesna
Mack Snoderly & Flave Heart Band
7:15 p.m.
Green Valley Cloggers
Don Pedi
Sheila Kay Adams & Friends
8:10 p.m.
J Creek Cloggers
Carol Rifkin and Friends
Haywood Ramblers
9:00 p.m.
Green Grass Cloggers
Frank Lee
William Ritter
10:20 p.m.
The Stoney Creek Boys
Saturday, Aug. 27 - Main Stage
6:30 p.m.
Cole Mountain Cloggers
Ginny McAfee
The Trantham Family
7:30 p.m.
The Montreat-Scottish Pipes and Drums
Carley Arrowood
Laura Boosinger and Josh Goforth
8:30 p.m.
Southern Appalachian Cloggers
Honey Holler
Marty Lewis and The Sons of Ralph
9:20 p.m.
Bailey Mountain Cloggers
Donna Ray Norton
Brooke Buckner and Friends
10:20 p.m.
Whitewater Bluegrass
*Performer line-up is subject to change.