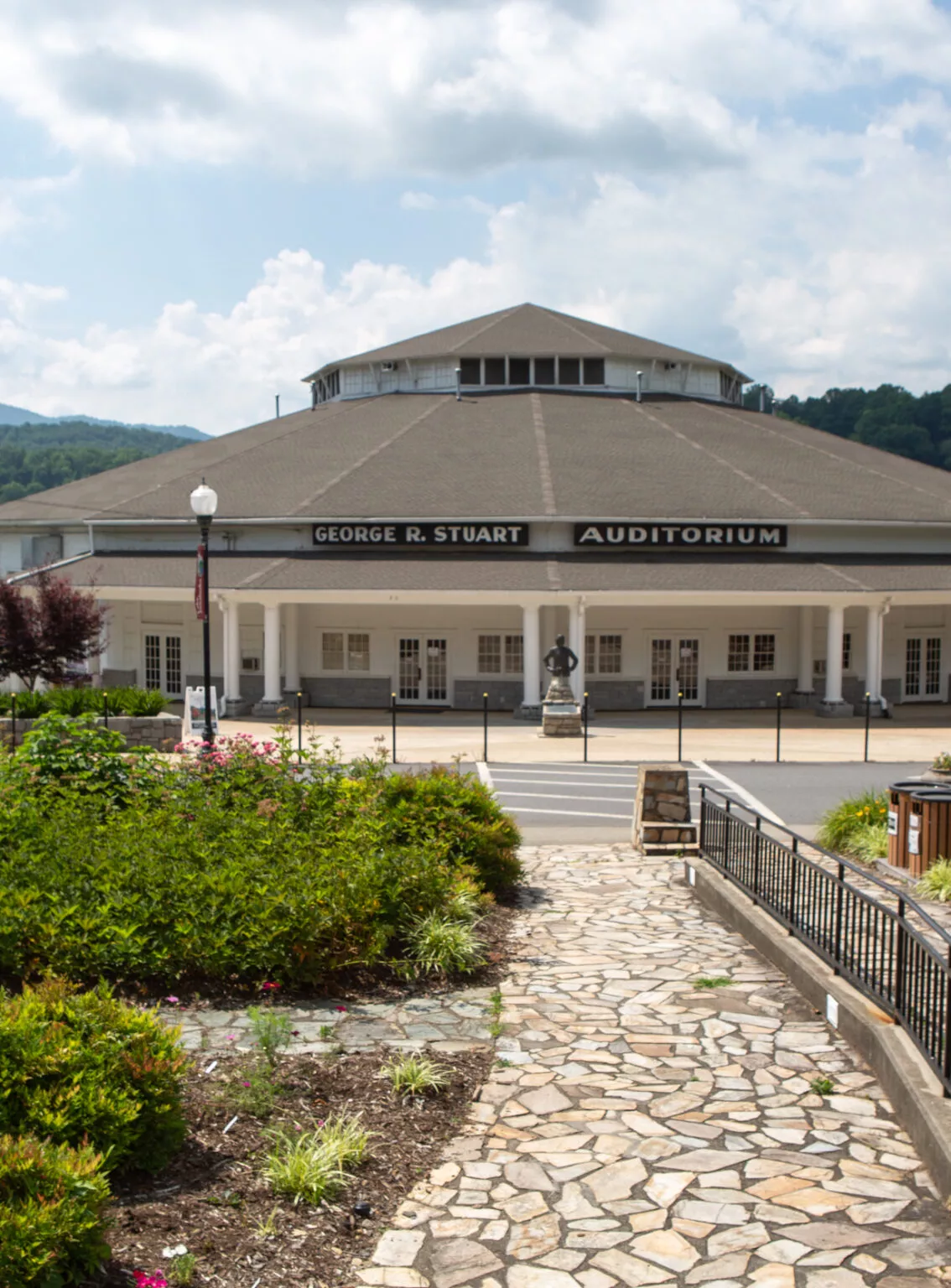 Celebrating 110 Years
June 22, 2023
The week of June 25 marks the first conference held in Stuart Auditorium in 1913. Throughout its history, Lake Junaluska has been and continues to be a place of Christian hospitality where lives are transformed through renewal of soul, mind and body.
Celebrate With Us!
Each year during the week of Lake Junaluska's birthday, we dedicate a day to celebrating and supporting Lake Junaluska. In 2023, we will celebrate Lake Junaluska Day on Thursday, June 22. We invite all those who love this special place to make an impact in three powerful ways:
•  Pray for the mission and ministry of Lake Junaluska.
•  Share why you love Lake Junaluska on Facebook and Instagram.
•  Give so that all who visit Lake Junaluska can experience renewal.
JOIN OUR ONLINE BIRTHDAY CELEBRATION
Morning Prayer
Join us via Facebook Live at 8:00 a.m. on Thursday, June 22, as we begin the day in prayer. Then offer up your prayer for Lake Junaluska in the comments section of the live stream.
Give
Celebrate by making a gift to support the mission of Lake Junaluska. Give now.
A Prayer for Lake Junaluska (2023)
A Prayer from the Hills
Psalm 121
Offered by the Rev. Blair Zant
Gracious and Loving God, who spoke into darkness and chaos, and called forth light and life, thank You for this new day dawned. For the breath in our lungs, the food on our tables, the warmth of the sun on our faces, and the welcome of community around us, Your creation gives you thanks.
Today, we turn our eyes to the hills: those outward and visible reminders of Your strength and help at work. For Lake Junaluska especially, we give thanks for the acres of holy ground. Here, Christian faith has been kindled. Here, generations have gathered, and prodigal siblings have reconciled. Here, faithful servants have been licensed, commissioned, ordained, and consecrated. Here, sacraments have been shared, and saints remembered.  For 110 years, Your people have experienced Your Spirit as it rolled down from the mountains and moved upon the waters. Wherever we are today, help us to see the hills, and to respond with gratitude.
In the cross upon the hill, help us see the hope that is ours through the sacrificial love of Christ Jesus.
In the ripples upon the lake, assure us that Christ can calm even the scariest of storms.
In the chiming of the bells, move us from chronos time into kairos time. Break in and allow our souls to Sabbath, even if just for the length of a hymn refrain.
In the sweat of the heat and the strain of the uphill climb, remind us that our transformation begins with repentance. Give us the courage to break down and cast out.
In the faces of our neighbors, show us the image of You they bear.
In the play of children, lighten our hearts and restore our sense of wonder.
And wherever this journey takes us today, protect us from all evil, protect our lives – as we come and go from now until forever from now.
Amen.
Written for the 2023 celebration of Lake Junaluska Day.
Your gift to Lake Junaluska through the Annual Fund will provide key support in the following areas:
Where Needed Most – providing holistic support for our mission and ministry.
Lake, Grounds & Recreation – caring for our lake, gardens, grounds, walking trails and recreational areas.
Ministry & Worship – supporting prayer services, faith gatherings, youth ministry and other spiritual growth opportunities.
Music & the Arts – sustaining our strong tradition of music and the arts.
Buildings & Facilities – preserving our cherished buildings, venues and sacred spaces.
Together, our collective prayers, storytelling and donations will strengthen Lake Junaluska as a place of Christian hospitality for years and years to come!
QUESTIONS?
Please contact the Lake Junaluska Development Office at 828-454-6680 or [email protected].
TAX INFORMATION
Lake Junaluska Assembly, Inc. is a 501(c)(3) charitable organization. Gifts are tax-deductible. Our federal tax ID number is 56-0547461.