Celebrating 109 Years: June 25, 2022
June 25 marks the first conference held in Stuart Auditorium in 1913. Throughout its history, Lake Junaluska has been and continues to be a place of Christian hospitality where lives are transformed through renewal of soul, mind and body.
Celebrate With Us!
Join us as we celebrate this historic event over a two-day period on Friday, June 24, and Saturday, June 25:
Join Our Virtual & In-Person Birthday Celebration
Morning Prayer  | June 24  | Virtual Event Only
Join us via Facebook Live at 8:00 a.m. on Friday, June 24, as we begin the day in prayer. Then offer up your prayer for Lake Junaluska in the comments section of the live stream.
Online Giving Day  |  June 24
Celebrate by making a gift to support the mission of Lake Junaluska. Give now.
Birthday Selfie Station  |  June 24 & 25  |  In-Person
A Lake Junaluska Day photo selfie station will be set up on Friday, June 24 outside of Stuart Auditorium from 9:30-10:30 a.m. and outside of the Lake Junaluska pool from 2-3 p.m. It will also be available at the Ringing of the Weatherby Bell on Saturday, June 25. Stop by to say hello and happy birthday, and take and post a photo at the Lake Junaluska Day selfie station.
Ringing of the Weatherby Bell  |  June 25  |  In-Person
You are invited to gather at the Weatherby Bell to celebrate Lake Junaluska's 109th birthday. Ken Howle, executive director, will offer words of welcome and celebration beginning at 11:30 a.m. Afterward, those in attendance will be invited to take turns ringing the Weatherby Bell. The Lake Junaluska Day selfie station will also be at the event so you can take and post a photo in honor of Lake Junaluska Day.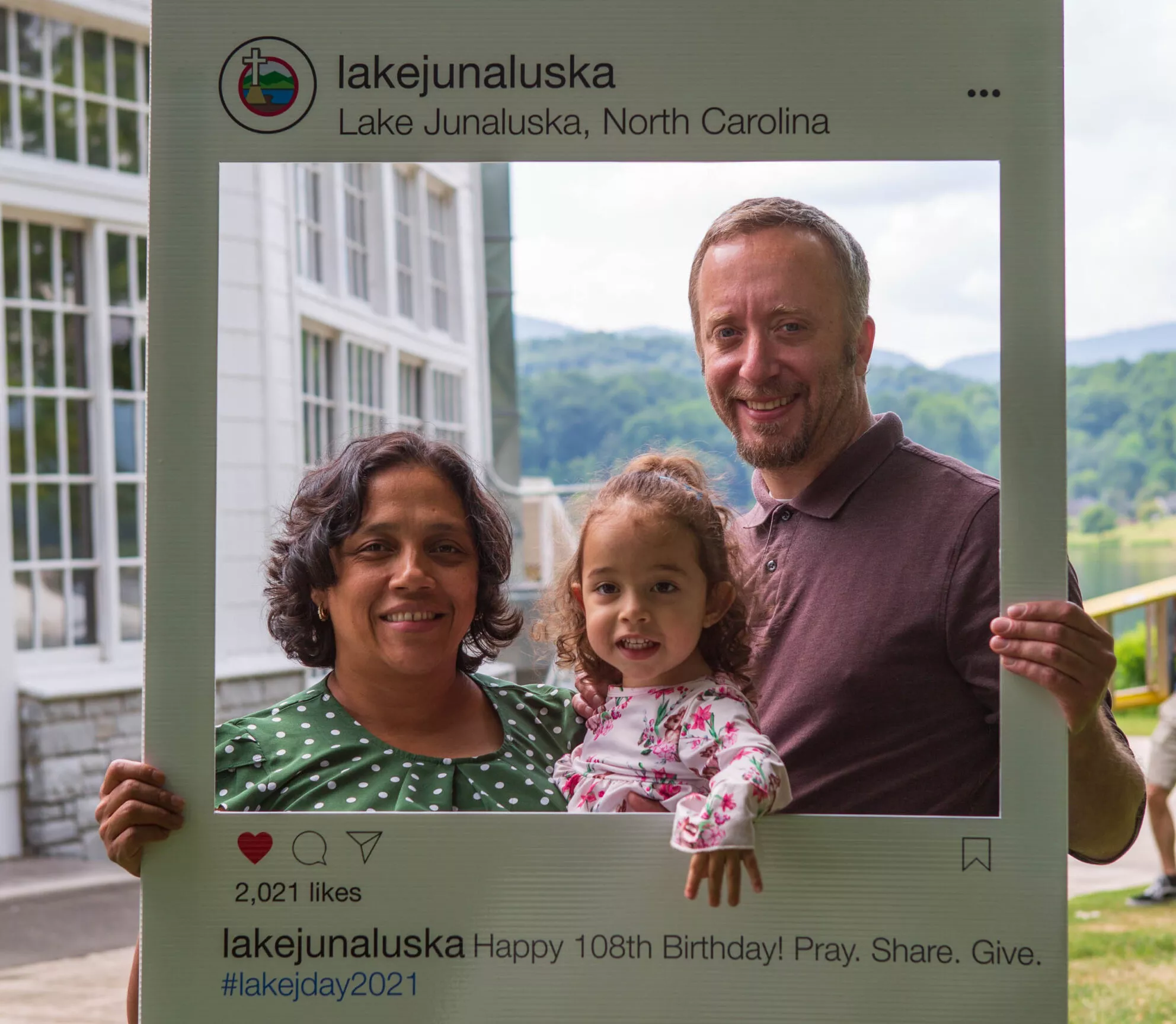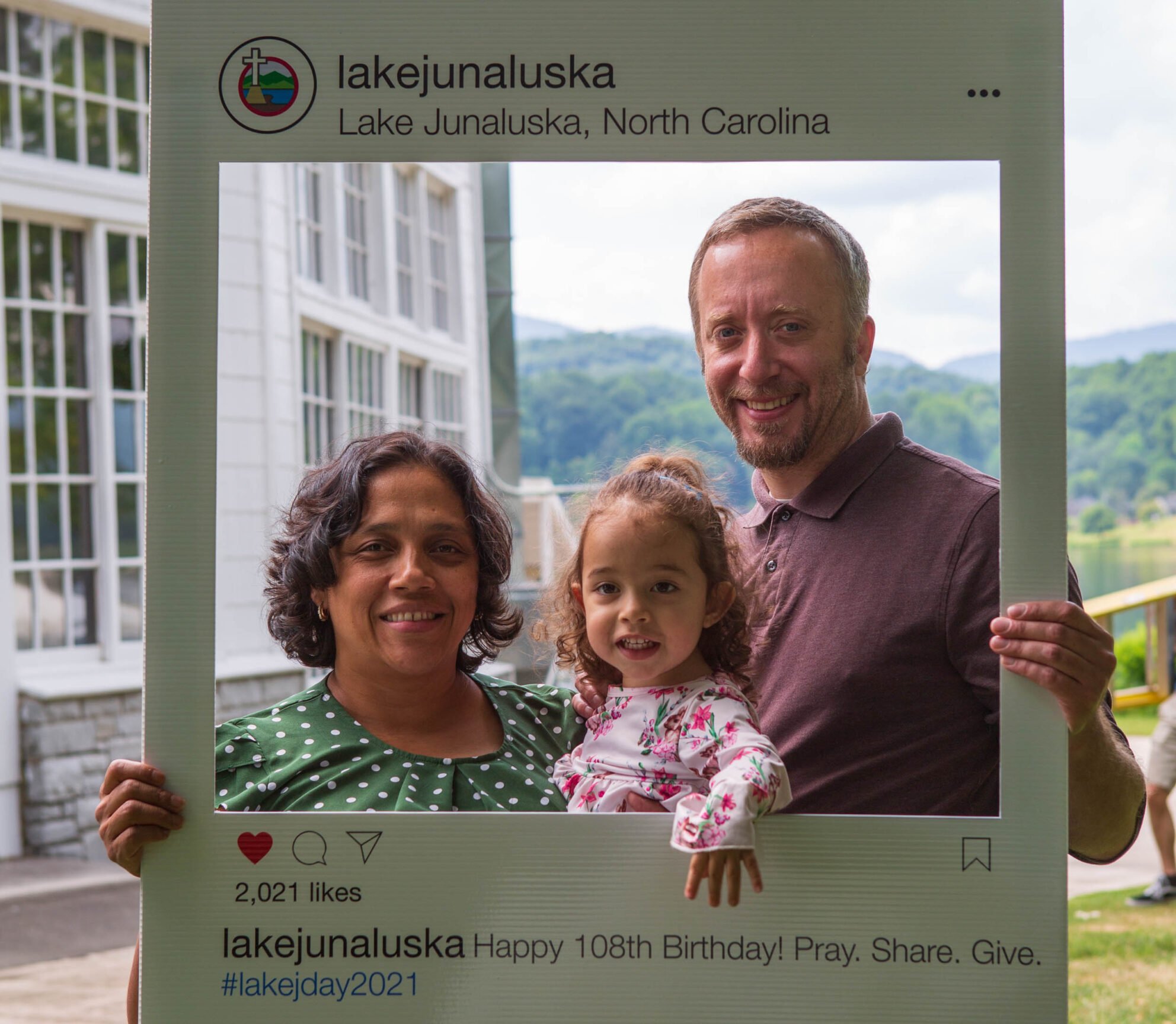 A Prayer for Lake Junaluska (2022)
Offered by the Rev. Dr. Jae Lee
Loving God, who is ever-present in our alone and painful time,
Answer our prayer for your gentle spirit to come and embrace us with overflowing grace.
Knowing that we are weak, vulnerable, and failing, yet,
Enduring it all to become faithful disciples for your ministry and service.
Jaded by human desires, we have neglected our spiritual needs.
Unravel our self-centered views and help us rediscover your sublime beauty,
Nestled in Lake Junaluska!
As we celebrate the 109th birthday of Lake Junaluska,
Lift us up with your tending spirit so that we may appreciate the rising mountains, still waters,
singing birds, joyful residents, yearning visitors, and hardworking staff,
Use our artful hands to create, preserve, and renew here at Lake Junaluska.
Sustaining God,
Kindle your everlasting flame in our hearts on this special day, so that we may follow your
bright and compassionate love.
Amid our disquieting realities, may Lake Junaluska continue to be a holy place for all people.
We pray in the name of Jesus Christ. Amen.
Written for the 2022 celebration of Lake Junaluska Day.
Your gift to the Lake Junaluska Annual Fund will provide key support in the following areas:
Where Needed Most – holistic support for our mission and ministry.
Lake, Grounds & Recreation – care and preservation of our lake, gardens, grounds, walking trails and recreational areas.
Ministry & Worship – prayer services, faith gatherings, youth ministry and other spiritual growth opportunities.
Music & the Arts – Gifts sustain our strong tradition of music and the arts.
Buildings & Facilities – Gifts preserve our cherished buildings, venues and sacred spaces.
QUESTIONS?
Please contact the Lake Junaluska Development Office at 828-454-6680 or [email protected].
TAX INFORMATION
Lake Junaluska Assembly, Inc. is a 501(c)(3) charitable organization. Gifts are tax-deductible. Our federal tax ID number is 56-0547461.