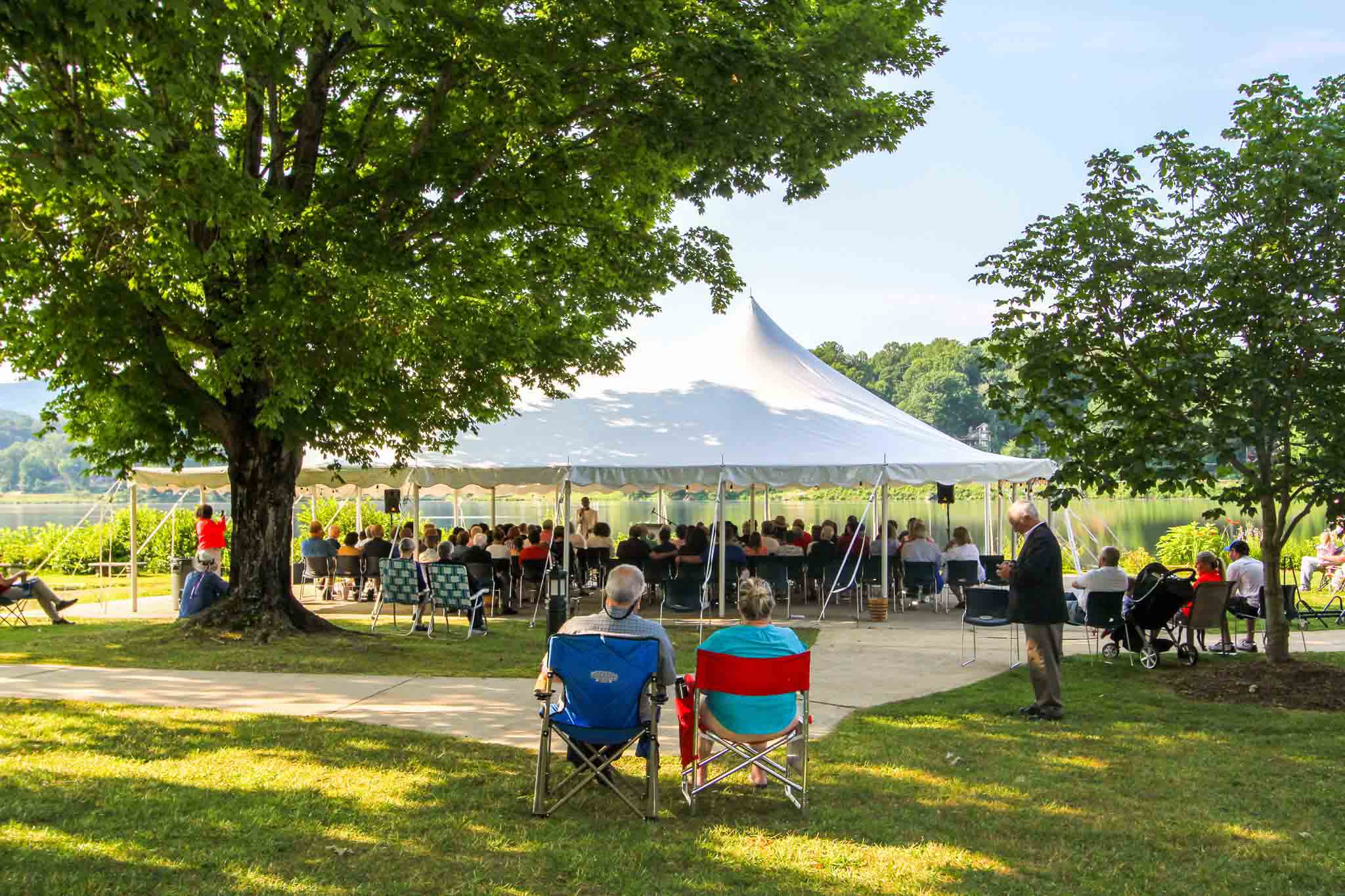 June 13, 2022
Lake Junaluska will host outdoor, lakeside Sunday worship services led by inspirational visiting preachers from June 26 through Aug. 14 as part of the Summer Worship Series.
"Lake Junaluska continues to be a place where people find healing and hope as we continue to move through challenging times," said the Rev. Rebecca Mathis, director of advancement. "We look forward to welcoming back community members and guests this summer and coming together in worship and prayer at the Summer Worship Series.
The services will be held at 9 a.m. at the lakeside tent near Stuart Auditorium. A limited number of chairs will be available under the tent. Attendees also are welcome to bring their own chairs.
Eight visiting preachers will take part in the Summer Worship Series:
Sunday, June 26 – The Reverend Dr. Samuel H. Moore Jr., an ordained elder in the Western North Carolina Conference of the United Methodist Church, has served numerous churches and on committees such as the Black Methodist for Church Renewal Committee of the WNCUMC.
Sunday, July 3 – The Reverend Dr. Audrey Warren is the senior pastor of First United Methodist Church of Miami, Florida, and co-author of "Fresh Expressions: A New Kind of Methodist Church for People Not in Church."
Sunday, July 10 – Dr. Edgardo Colón-Emeric is dean of Duke Divinity School, an associate professor and director of the Center for Reconciliation. His work explores the intersection of Methodist and Catholic theologies, and Wesleyan and Latin American experiences.
Sunday, July 17 – The Reverend Paul Christy is the senior pastor of First United Methodist Church Hickory.
Sunday, July 24 – The Reverend Dr. Mark Teasdale is the E. Stanley Jones Professor of Evangelism at Garrett-Evangelical Theological Seminary.
Sunday, July 31 – The Reverend Sally Campbell-Evans is pastor of congregational care at Hyde Park UMC in Tampa, Florida.
Sunday, Aug. 7 – The Reverend Dr. Elaine Heath retired from Duke Divinity School to lead Neighborhood Seminary, a nonprofit that she co-founded to provide theological, practical and spiritual formation for lay people to know how to help their neighborhoods.
Sunday, Aug. 14 – The Reverend James A. Harnish, retired pastor, is a facilitator for the Institute of Preaching at Duke Divinity School and author of books including "Extraordinary Ministry in Ordinary Time: An Invitation to Renewal for Pastors" and "Easter Earthquake: How Resurrection Shakes Our World."
Many of the visiting preachers for the Summer Worship Series will spend additional time at Lake Junaluska to serve as Theologians In Residence. As Theologians In Residence, they will offer personal and interactive experiences such as devotions, discussions, prayer walks and workshops throughout the summer. The events are free and open to anyone seeking inspiration and new ideas for ways to do church. Church members, laity, ministers and those not part of a church are all welcome and encouraged to attend.
"All of our Theologians In Residence are concerned about the local church, and they are all bringing fresh expressions for how to do ministry in today's changed environment," said the Rev. Dan Martin, a retired Methodist minister who served at West Market Street United Methodist Church in Greensboro. Martin has been coordinating with visiting preachers for Lake Junaluska Summer Worship Series and the Theologian In Residence program.
"Every local church is having to look at ministry in a different way," Martin said. "What worked 10 years ago does not work any longer. We are looking for new ways to reach unchurched people, to do ministry outside the walls of the church and to make disciples of believers. All of our speakers will be coming to help us learn how to be disciples and to guide us in our local churches, in our communities and in a world of broken people."
Upcoming Theologian In Residence events include sessions such as "Fresh Expressions" and "People Over Property" led by the Rev. Dr. Audrey Warren, and "Developing A Social Covenant" and "Lay Leadership Academy" with the Reverend David McEntire, as well as a week with events from prayer walks to discussions centered on coming to the lake to the pray, developing a prayer life, and faith and vision with the Rev. Jennifer Forrester and the Rev. Paul Christy.
For more information about the Summer Worship Series or Theologians In Residence program, visit lakejunaluska.com/summerworship.
Lake Junaluska offers spiritual enrichment opportunities that will challenge your heart and mind and renew your soul. Events range from worship services, retreats and conferences to summer activities for the whole family.