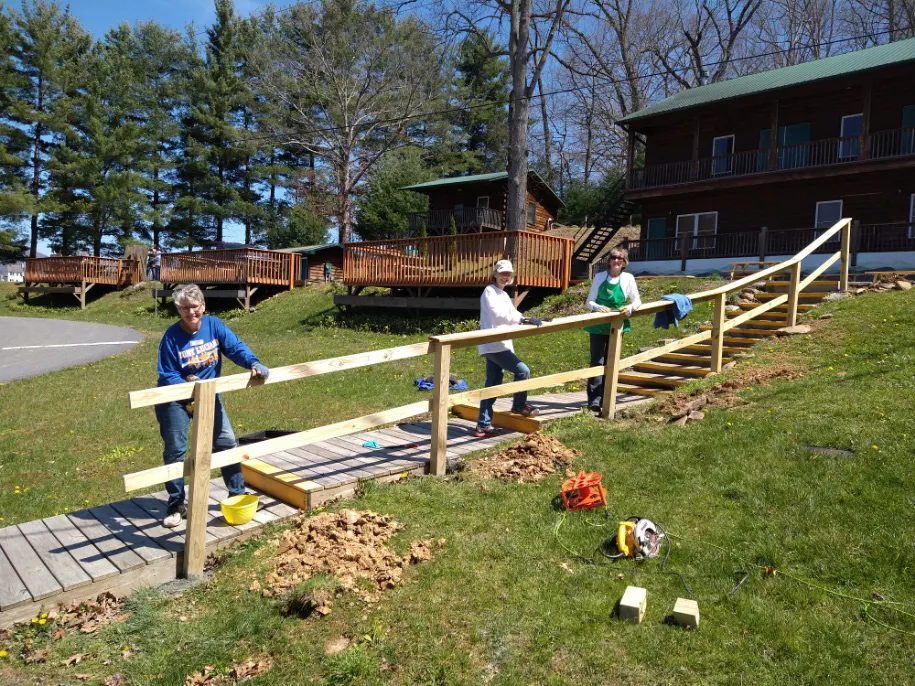 May 13, 2022
A group of 14 NOMADS Mission Volunteers dedicated three weeks this spring to helping Lake Junaluska prepare for the summer season. The volunteers came in RVs from such places as Cary and Greensboro in North Carolina as well as from Virginia, Indiana, Georgia, Delaware and Pennsylvania. They stayed at the Lake Junaluska campground as they helped with tasks from landscaping to carpentry and more.
"Lake Junaluska is grateful for the many years of collaboration with the NOMADS (Nomads On Mission Active in Divine Service) organization," said Mike Huber, general manager of Lake Junaluska. "Our spring project of 14 Christ-following servants offered 12 six-hour days of work for a total of 1,008 person-hours of donated labor. What a gift those hours and the completed tasks are to the site, the community and the staff."
NOMADS Mission Volunteers work with projects at many different agencies across the country, said Vince Anderson, who served as the team leader along with his wife Diane. Part of what they enjoy most about working at Lake Junaluska, he said, is the campground and the surrounding area, as well as the meaningful and challenging work.
In addition to the Andersons, the 2022 spring NOMAD Mission Volunteers included Gerry Cunningham, Larry and Lyn Harper, Barbara and Jim Johnson, Larry and Gloria Moyer, Diane Shedd, Chuck and Sally Walters, and Bryant and Jackie Wilbourne.
For more information about volunteering at Lake Junaluska, visit lakejunaluska.com/volunteer.
Volunteer opportunities at Lake Junaluska include help with beautification, clean-up, hospitality and more.
NOMADS Mission Volunteers - Spring 2022
Click on any of the images to view in a full-size lightbox gallery.