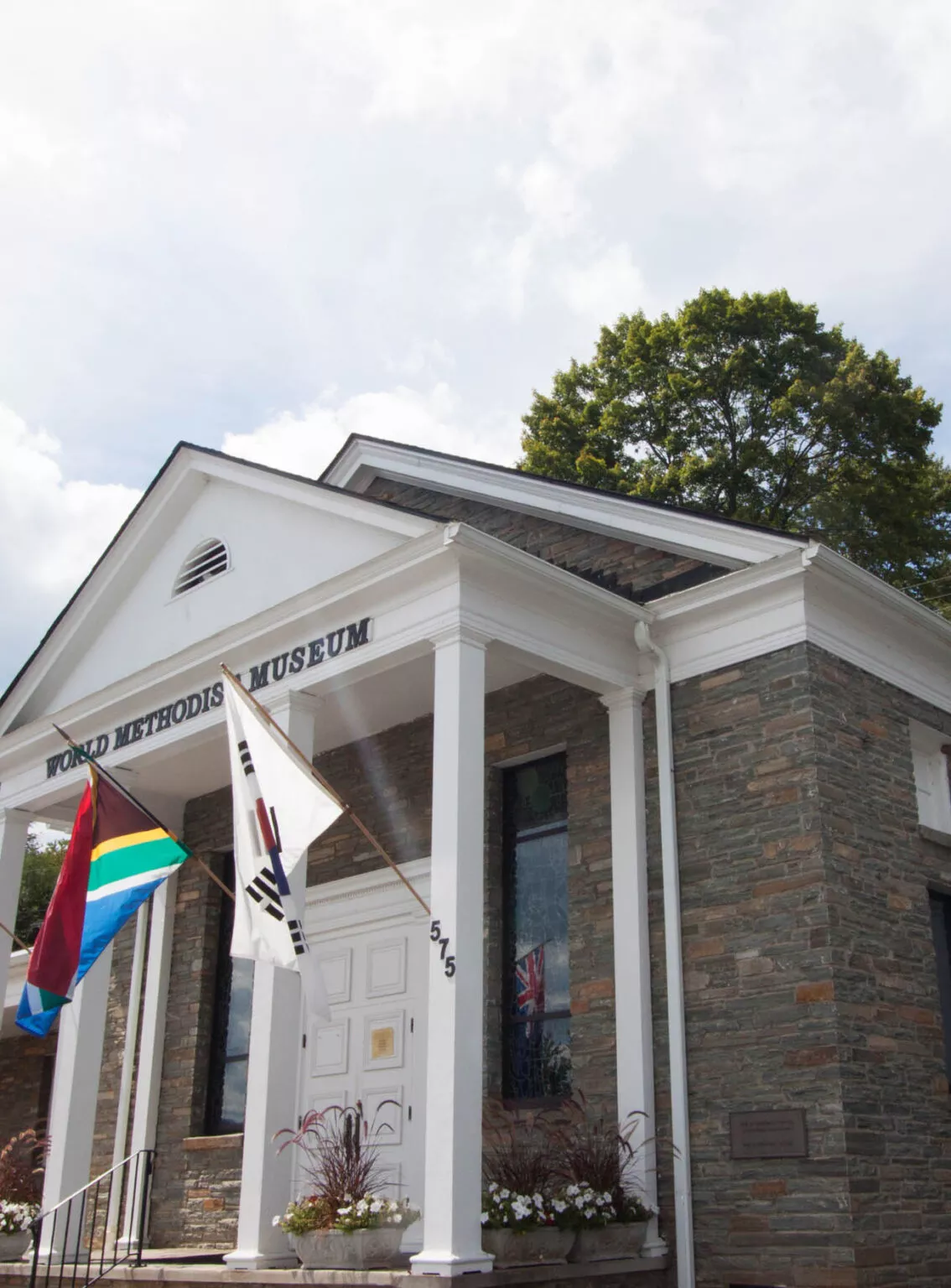 March 15, 2022
Lake Junaluska recently announced plans for renovations to the former World Methodist Council building made possible by a $1.1 million gift by Anne and Mike Warren, longtime Lake Junaluska homeowners and supporters.
The Warrens' gift will allow Lake Junaluska to develop the historic building into a multipurpose gathering space. The organization's executives are currently exploring ways to use the building, located adjacent to The Terrace Hotel, as a venue for ministry, reception, reunion, and other events.
"We are deeply grateful to Anne and Mike for their generous gift," said Lake Junaluska Executive Director Ken Howle. "The restoration of sacred spaces is a priority for Lake Junaluska, and it's exciting to have the opportunity to reimagine and renovate the historic World Methodist Council building for all to enjoy."
Howle announced the Warrens' gift during the spring Lake Junaluska Board of Trustees meeting held March 3-4. Mike and Anne of Birmingham, Alabama, are longtime supporters of Lake Junaluska, serving on the Board of Trustees and contributing to projects such as the bridge across the dam and youth facility renovations. In recognition of the couple's support for restoring sacred spaces at Lake Junaluska, the stately historic building will become known as the "Warren Center."
The Warrens' connection to Lake Junaluska began with Anne's father, a Methodist minister in South Alabama. He and his wife bought a house at Lake Junaluska from a longtime resident in 1962. The old red home is located on the hill behind The Terrace Hotel and offers views of the Susanna Wesley Garden and the Lake from its back porch.
Anne and Mike, who met as sixth-graders in Alabama, purchased the home from Anne's parents in 1994 and today spend vacation time there with their three children and ten grandchildren. Their daughter, Laura Russell, also owns a home in the neighborhood.
"Our Lake Junaluska story is all about family," said Mike. "This special place is a center of gravity for our family and many others."
When the World Methodist Council property went up for sale in 2021, Mike, Anne and Laura donated the funds Lake Junaluska needed to reacquire it. The trio contributed $625,000 toward the reacquisition of the Council Building and a portion of the adjoining Susanna Wesley Garden.
"We felt the need to keep it in the Junaluska family," said Anne of the property. While the Warren family had no direct ties to the building itself, they had previously contributed to the garden's refurbishment and frequently enjoyed playing there with their grandchildren.
Mike's retirement as president and CEO of Children's Hospital of Alabama in 2021 and the children's song "Deep and Wide" informed the Warrens' recent $1.1 million gift to Lake Junaluska. Redoing their wills and estate plans spurred a conversation on gift-giving while the song encouraged them to give in-depth to the things they cared about most.
"Lake Junaluska fell into that category, and the building renovation was an easy thing to be involved in," said Anne, who envisions the venue filled with laughter, music, dancing and weddings. "To think that we can give our gift now when there's a great need, and we can see some of its fruits in our lifetime feels joyful and right."
"We're excited about what's to come, and we hope Lake Junaluska will continue to be that inclusive place where all people can come to use a building or a space or walk across the dam," said Mike. "We also hope our gift will encourage others to participate as they can."
"Restoring sacred spaces is foundational to our mission," said Ken Howle. "With the Warrens' gift to renovate this historic space, we'll be able to provide an inspirational venue for families and groups to gather at the heart of Lake Junaluska to celebrate their connection to Christ and each other."
To learn more about charitable giving opportunities at Lake Junaluska, visit lakejunaluska.com/give.