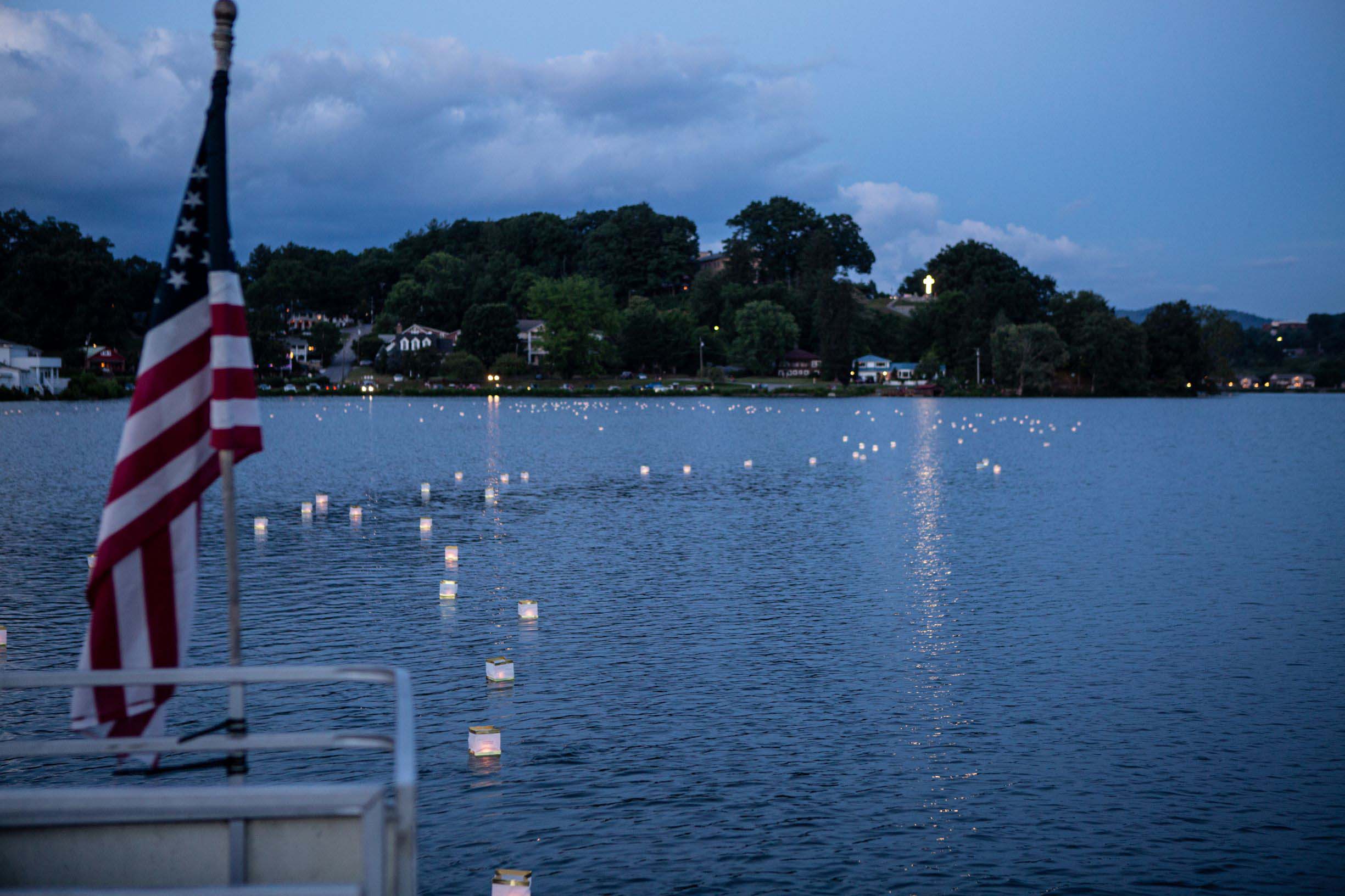 As part of Lake Junaluska's multi-day Independence Day Celebration, staff and volunteers place floating lanterns on the lake on Friday, July 5, at dusk (between 9:15 and 9:45 p.m.). Each lantern carries a name in remembrance or in honor of a loved one.  All are welcome to the lakeside to enjoy, celebrate and admire this enchanting and meaningful display.
Lantern Dedications
To have a loved one's name placed on a lantern, you make a donation per lantern. More details are coming soon about how to donate a lantern.
Thank you to all who have made a gift in 2023 to have a name placed on a lantern for the event on July 1, 2023. Your gifts support the mission and ministry of Lake Junaluska. A list of names of those who are honored and memorialized, along with the names of those who gave, is now available. View the list of 2023 Lake Junaluska Floating Lantern Dedications (PDF). An album of photos will be shared during the week following the event.
See the Lanterns
Lake Junaluska staff will release the floating, biodegradable lanterns on Lake Junaluska at dusk (sometime between 9:15-9:45 p.m.) The lanterns will be released in the main part of the lake between the pool on Memory Lane and the lighted Lake Junaluska Cross on the hill. The event is free and visitors may watch the lanterns from the lakeshore. Please park in any of the Lake Junaluska parking areas. Guests may watch from their cars or bring a blanket or chair to watch from the lawn.
After the Event
To help keep the lake clean, the lanterns are biodegradable and staff and volunteers help gather as many lanterns as possible from the lake after the event as soon as conditions allow.
Event Details:
Date:

July 5, 2024

Time:

9:15 pm

Location:

Lanterns released on the lake from a pontoon boat are visible from the lakeshore

Categories: