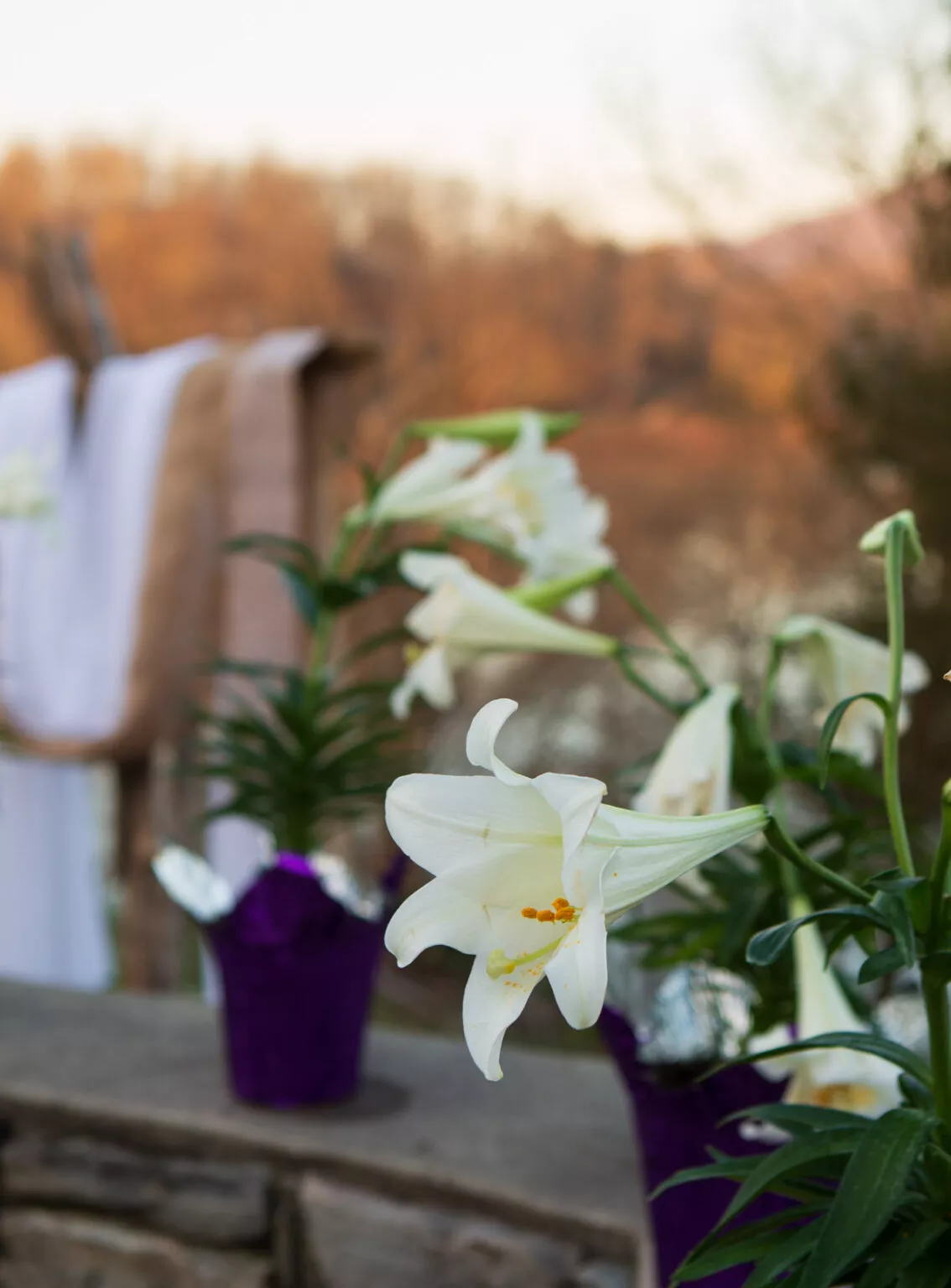 March 23, 2022
Lake Junaluska will celebrate Easter with an uplifting outdoor sunrise service at the Lake Junaluska Cross and a sumptuous brunch buffet at historic Lambuth Inn.
The sunrise service on Sunday, April 17, will begin at 7 a.m. at the outdoor amphitheater that overlooks the lake from beneath the Lake Junaluska Cross and is open to the public for in-person worship. The service also will be streamed live on Lake Junaluska's Facebook page at facebook.com/lakejunaluska.
"This Easter we gather again at Lake Junaluska to share in the hope and the love of Christ," said Ken Howle, executive director of Lake Junaluska. "We invite you to join us in person or online as we come together."
A brass quintet will provide music, and the speaker will be the Rev. Dr. Hyung Jae Lee. The sermon title is "While It Is Still Dark," and the selected Scripture is John 20:1-3.
"Darkness… we are at the end of the dark tunnel of COVID-19. We are exhausted, confused, and even fearful in darkness," said Lee. "'While it was still dark,' Apostle John shares the story of Mary Magdalene and her fellow disciples. Darkness pushes us into frustration and fear and leads us to courage and hope. Only those in darkness can see bright stars, and we are invited to see the hope of Jesus' resurrection on a dark morning of Easter Sunday. So let us come and confront our darkness in faith!"
Lee serves as the Smoky Mountain District Superintendent of the Western North Carolina Conference of The United Methodist Church. Most recently, he has served as pastor of Calvary UMC in Charlotte since 2013. Previously, he was pastor of Wesley UMC and Thrift UMC, both in Charlotte, and associate pastor at First UMC in Brevard. Born and raised in South Korea, Lee completed his undergraduate and master's degrees at Hanyang University in Seoul. Coming to the United States in 1997, he earned a Master of Divinity and a Master of Theology from the Candler School of Theology at Emory University and a Doctor of Ministry at Duke Divinity School.
Sunrise service attendees are encouraged to dress warmly for cool mountain morning temperatures. In the event of rain, the service will be held at Memorial Chapel. Check lakejunaluska.com/easter for possible schedule changes.
Following the service, Lake Junaluska also will host a sumptuous Easter Brunch Buffet at the historic Lambuth Inn from 7:30 to 10 a.m. The menu features crustless quiche, Southern chicken and Belgian waffles, sliced honey glazed ham, Applewood smoked bacon, sausage, Southern biscuits and gravy, homestyle grits and more. The buffet costs $32 per adult, $16 per child age 4 to 12, and free for children age 3 and younger, plus tax and 18 percent gratuity. To request reservations, visit lakejunaluska.com/easterbuffet or call 800-222-4930.
Also Easter weekend, the Lake Junaluska Friends of the Lake 5K Road Race and Walk will take place on Saturday, April 16. The course takes participants along a scenic lakeside route. All profits from the 5K go toward improvements and annual maintenance of the lakeside walking trail and other recreation areas around the lake, which cost over $250,000 annually. For more information, visit lakejunaluska.com/run.
Following the 5K, Long's Chapel will host Easter egg hunts for children ages 1-12 plus face painting, balloon animals and pictures with the Easter bunny at Lake Junaluska outside Stuart Auditorium. Long's Chapel also will partner with Camp Ability to host an egg hunt for children ages 4 to 12 with special needs inside the Harrell Center. Check-in and activities begin at 11:15 a.m. with the first egg hunt at 11:30 a.m. A food truck will be at the event.
For guests who wish to spend the holiday weekend at Lake Junaluska, a 30 percent off Easter weekend lodging special at The Terrace Hotel and Lambuth Inn is available by calling 800-222-4930.
Celebrate Easter at Lake Junaluska with an annual sunrise service at the Amphitheater below the iconic Lake Junaluska Cross overlooking the lake.
Join us for a festive Easter breakfast at historic Lambuth Inn.