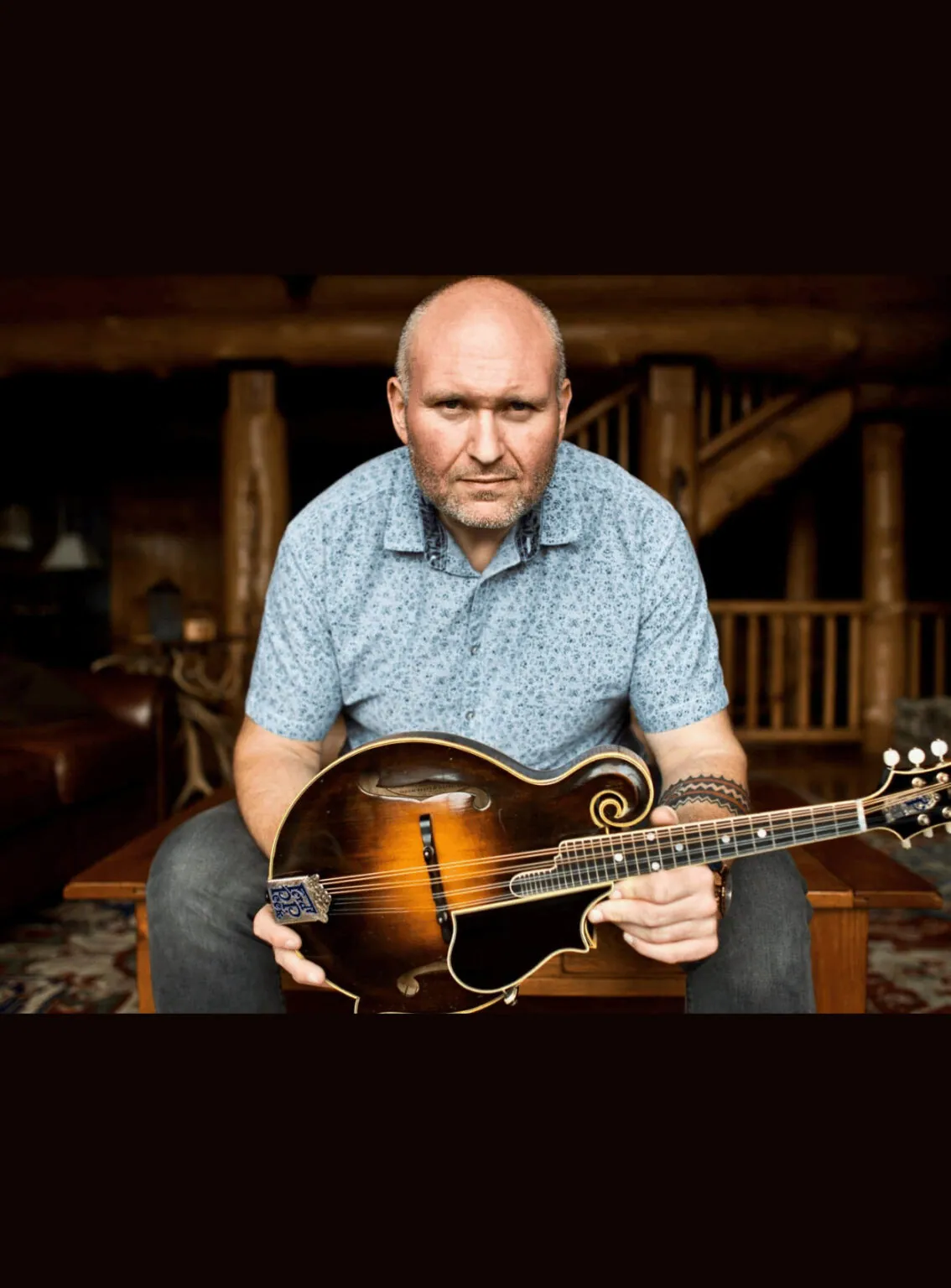 June 21, 2023  |  See Photos
Darren Nicholson is on a roll, and the secret to his new energy and excitement just might be found in one of his two recent No.1 bluegrass songs from his new album "Wanderer:"
"As we make our way through the cloudy days, and the storms of life rage on. You'll find shelter there in his love and care, if you leave it in the hands of the Lord."
Nicholson, a founding member of Balsam Range, who left the band in December after 15 years to pursue a solo career, said he wrote the foot-stomping, hand-clapping "Leave it in the Hands of the Lord" with Mark Bumgarner as a reflection of the journey he is on with his music and his physical, mental and spiritual health. The song was Nicholson's first release off the new album and went to No.1 in March on Bluegrass Today. The second release to reach No. 1 was "Arkansas Without You."
"It's about letting go and letting God," Nicholson said of "Leave it in the Hands of the Lord." "We try to control outcomes, people, places and things. There are a lot of situations we've just got to let go. I'm in the efforts business and God's in the results business."
Nicholson's Darren Nicholson Band will play a 7 p.m. show with Unspoken Tradition, a national touring bluegrass band also from North Carolina, on Sunday, July 2, at Stuart Auditorium at Lake Junaluska. Tickets are $35 for general admission and $45 for reserved seating and can be purchased online at itickets (Learn more at lakejunaluska.com/july4). The event is part of Lake Junaluska's Independence Day Celebration weekend of events.
The July 2 concert also will be Nicholson's album release party for "Wanderer," a record he's excited for his fans to hear. "It's going to be high energy, a six-piece band with all the typical instruments and songs off the new record," he said of the concert. "This is going to be something that's unique, fresh and new. A new sound." His wife, Jennifer, will be there, too, singing harmony as she does on the album.
Nicholson also is excited to share billing with his friends, Unspoken Tradition, who he has known for 20 years. "They're a national touring act with national releases," he said. "They're a hot item."
Ty Gilpin, of Unspoken Tradition, said his band is eager to perform at Lake Junaluska because of its history of "epic" musical performances. "The combination of the environment and sound and fellowship in the performance hall is unmatched in the area. We really look forward to presenting this show with our friend and label mate, Darren Nicholson," Gilpin said.
Is the title of his new album autobiographical? Yes. "I've been searching for the past two or three years trying to figure out the direction of my career and my life, and I've been on a health quest," Nicholson said. "That's been fantastic."
"Wanderer" also reflects Nicholson's focus on enjoying the journey and not necessarily the destination. "I'm trying to stay creative and keep that fire going. You've got to set some goals. July will be three years since I've had any alcohol. I quit drinking. I found myself eating a lot of sugar and junk food. I thought if I'm going to get healthy, good health is physical, mental and spiritual. It's all interconnected," he said. "How you feel physically does affect everything. I want to feel good and it's made me get really fired up about music again. That's why I'm playing more. I finally feel good. It's not an energy thing, it's an action thing."
Part of his new regimen, he noted, includes weekly walks around Lake Junaluska, reflective time he uses to meditate, catch up on podcasts and generally recharge from a calendar full of performances.
Nicholson has been playing music longer than many people may realize, performing with his parents Hayes and JoAnn Nicholson when he was a little boy. "I've been on stage since I was 18 months old, with a plastic guitar," he said. "It's been who I am for as long as I can remember. Everybody in my family played. I feel like I'm one of the true Appalachian stories. There are very few of us left. We didn't have TV, we played music. I'm 39, but I was raised like it was the 1950s."
Nicholson started out on guitar and fiddle, but switched to mandolin around age 14, so he could sing, he said, because one can't play fiddle and sing at the same time.
Nicholson's mother, JoAnn, played electric bass guitar and his dad played a Fender Jazzmaster guitar, which Nicholson gave to Chris Stapleton – yes, that Chris Stapleton, the 2023 American Country Music Entertainer of the Year Award winner – after Nicholson's dad passed away.
According to Nicholson, Stapleton is the only country music artist who played a Fender Jazzmaster guitar like Nicholson's dad, whose own repertoire included country, bluegrass and honky-tonk music. The guitar still carries a very dated marker of its previous owner.
"It's got my dad's name on the headstock with an orange label maker. It's an old vintage Fender and the Fender decal wore off. I've seen it on Austin City Limits, the Tonight Show and Saturday Night Live," Nicholson said.
A quick search of YouTube confirms his story. The bright orange name tag with the name "Hayes," Nicholson's dad's first name, glows on the dark headstock of the vintage guitar Stapleton plays during a Jan. 28, 2018 performance of "Midnight Train to Memphis" on Saturday Night Live.
Nicholson said when Stapleton first saw the name tag, he got chills because Hayes is Stapleton's wife's maiden name.
"I've got a letter from Chris saying he'll never sell the guitar and if I ever want it back he'll get it back to me," Nicholson said. "There's such a happy, beautiful ending to it. Chris is a great guy. I'd rather him have it."
Nicholson honors his mother, who is from Dillsboro, on his new album with the song he wrote for her, "Dillsboro Blues." JoAnn Nicholson has lung cancer and is in hospice care, Nicholson said. "She was diagnosed the day after I played the Lake last year," he said.
These days, Nicholson wants to educate his audiences about the music he plays as much as he wants to entertain them. As a native of Appalachia, he feels an obligation.
"A lot of bluegrass and country music are basically – it's all hillbilly music. My parents didn't say this is bluegrass and this is country. In the mountains, it could have been electric guitars and banjos together. They were just entertaining themselves," he said. "My goal is to be a real mountain Renaissance troubadour. I want to expose people to Appalachian music and culture. I feel that's my calling."
The Darren Nicholson Band and Unspoken Tradition take the stage at Lake Junaluska's historic Stuart Auditorium for an Independence Day Celebration concert on Sunday, July 2, at 7 p.m.
Lake Junaluska's annual Independence Day Celebration features a weekend of family-friendly fun — from concerts to fireworks to floating wish lanterns.
Photos