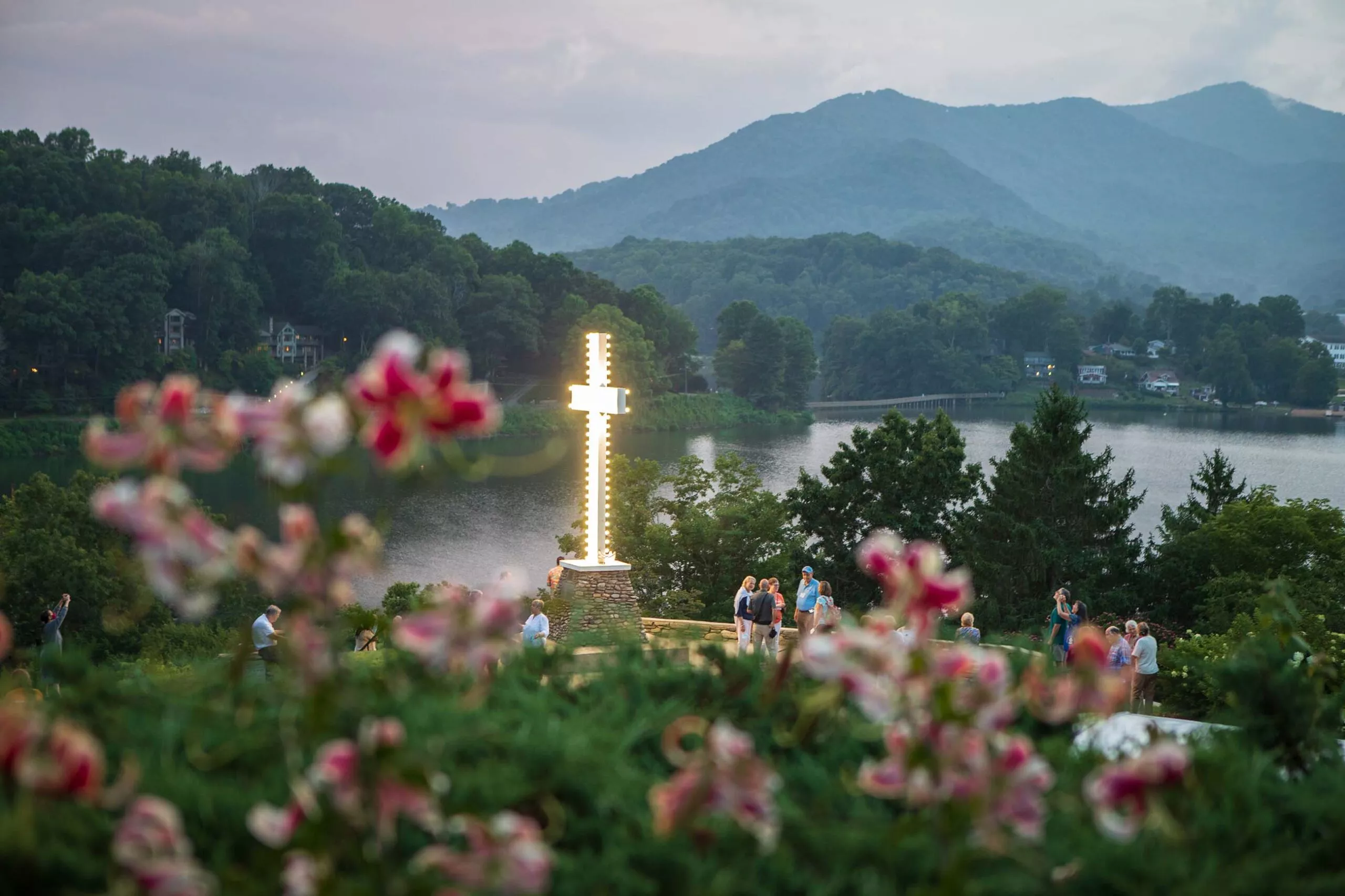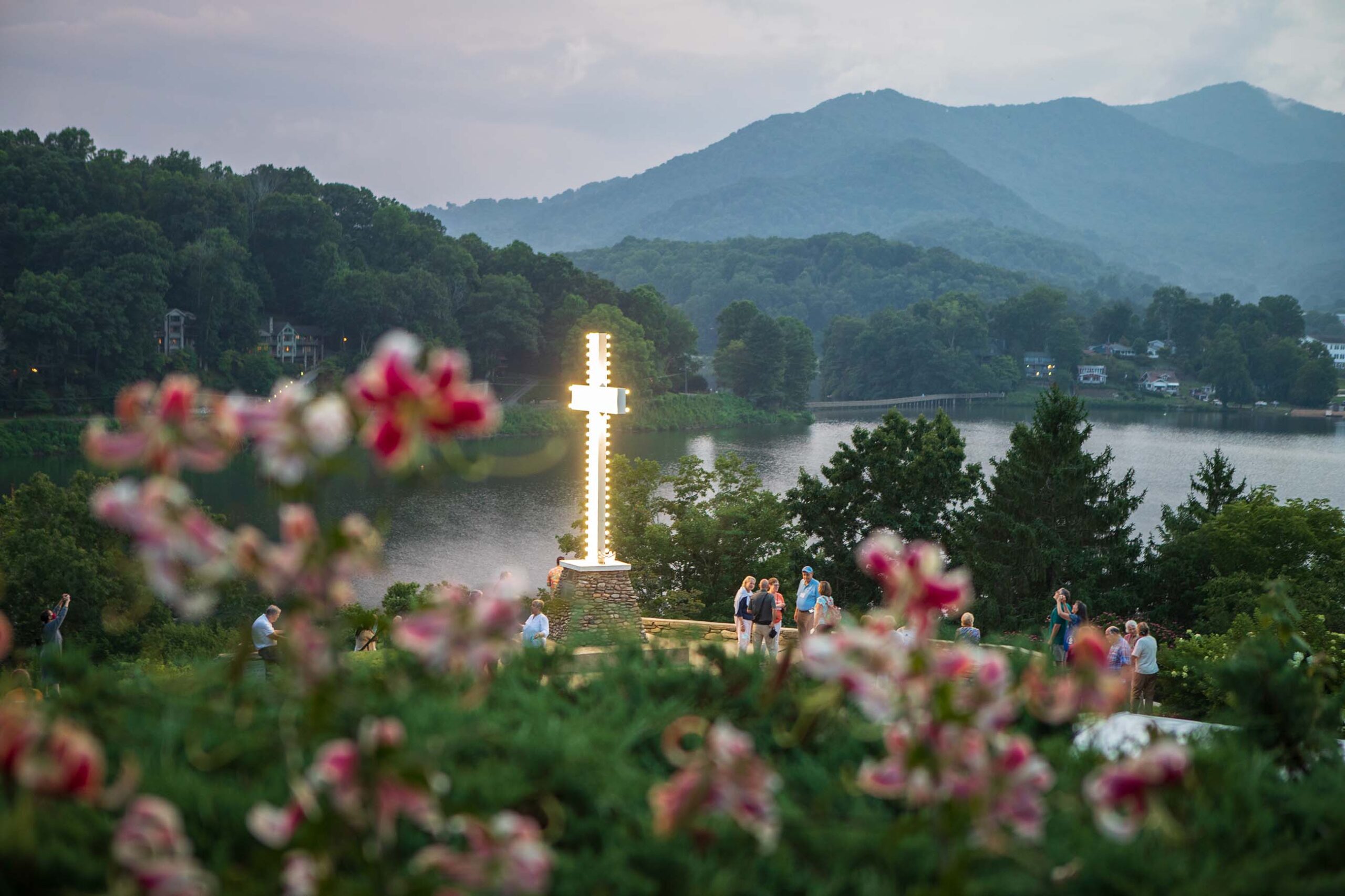 A conference for finding purpose
and renewal in the second half of life
AUGUST 1-4, 2022
Held annually, the Festival of Wisdom and Grace invites participants to explore how we flourish as we age and how we navigate transitions, live into our talents and passions and cultivate our relationship with Christ. The festival features worship, workshops, recreation, entertainment, learning and plenty of time for fellowship. You will also have time to explore Lake Junaluska and enjoy the gardens and places of meditation, lakeside trail and more.
Our festival theme for 2022 is "Rest, Renewal, and Delight." The keynote speaker will be Matthew Sleeth, MD, and the festival preacher will be Bishop Ken Carder. Entertainment will include a concert by Marty Goetz. Workshops will range from intergeneration ministry to creation care. Learn more below.
We invite you to register for the festival online, by mail or by phone, and subscribe to festival updates to receive the latest news about the conference.
Step 1: Register for the festival
STEP 1: Register for the festival
STEP 2: Register for workshops
OTHER WAYS TO REGISTER
By Mail
By Phone
LEARNING CIRCLES

Learning Circles are free small group clinics on a variety of topics led by qualified Festival
participants on subjects they are passionate about. Participants may sign-up upon arrival. Want to lead a Learning Circle? Email Sueeaton@bellsouth.net.
Step 2: Register for workshops
Keynote Speaker & Preacher
KEYNOTE SPEAKER: Matthew Sleeth, MD
Matthew Sleeth, MD, a former emergency room physician and chief of the hospital medical staff, resigned from his position to teach, preach, and write about faith and health. Dr. Sleeth has spoken at more than 1,000 churches, campuses, and events, including serving as a monthly guest preacher at the Washington National Cathedral. Recognized by Newsweek as one of the nation's most influential Christian leaders, Dr. Sleeth is the executive director of Blessed Earth and author of numerous articles and books, including Reforesting Faith and 24/6.
His most recent book, Hope Always: How to be a force for life in a culture of suicide, released in May 2021. Dr. Sleeth lives in Lexington, Kentucky, with Nancy, his wife of 40 years. Their grown children serve with their families in full-time ministry and as medical missionaries in Africa.
Dr. Sleeth will bring our Keynote Addresses and will speak on "10 Ways to Maintain Mental Health."
Preacher: Bishop Ken Carder
Bishop Kenneth Carder was elected to the episcopacy in 1992 by the Southeastern Jurisdictional Conference of the U.M. Church. At the time he was the pastor of the Church Street U.M.C. in Knoxville. He was assigned to the Nashville Episcopal Area, effective 1 September 1992. He was assigned to the Mississippi Area in 2000, where he served until retiring in 2004 and joining the faculty of Duke University Divinity School. Currently, Bishop Carder serves as the Ruth W. and A. Morris Williams, Jr. Distinguished Professor of the Practice of Christian Ministry Duke Divinity School, Durham, North Carolina. He is the author of five books and numerous articles.
Bishop Carder was with us in 2021 and is back in 2022 to be our Preacher for the Festival of Wisdom and Grace.
2022 Workshops
Four one-hour workshops will be offered during the conference. After registering for the festival, sign up online for your preferred workshops.  Please note some workshops are two parts and require registering for Part 1 and Part 2.
Workshop Descriptions
Intergeneration Ministry by Missy Buchanan
This is a two-part series with Part 1 and Part 2 offered on Tuesday and Wednesday. To participate in the full workshop, please be sure to sign up for Part 1 and Part 2 when you register for workshops. More details coming soon.
Ministry with the Forgotten by Bishop Ken Carder
What do people of faith and congregations have to contribute to the well-being of those living with dementia? Drawing on personal experience and relevant information, the workshop explores dementia as a spiritual challenge and opportunity and provides motivation and guidance for individuals and congregations who seek to be in relationship with those affected by dementia.
Sabbath by Ryan Bennett with Blessed Earth
This workshop will unpack God's good gift of Sabbath to us. Sabbath is not just pulling away from work. Sabbath is engaging with the Holy in such a way that we are changed by the encounter. Whether working or retired, Sabbath takes intention and planning in order to be able to live into it properly. Join us for this workshop as we explore Sabbath together. Ryan Bennett is a United Methodist Elder from the Nashville Tennessee area. He has taught Sabbath understanding and practice to both clergy and laity alike throughout the country.
Creation Care by Heather Bennett with Blessed Earth
Some of our earliest memories take place in nature: climbing trees, creek stomping, making clover necklaces, or blowing the white fluffy seeds from a dandelion. In this workshop, we will see how our God is an artist! Using scripture will help inform the way we view, experience, and delight in creation. We will take a deeper look at the awe-someness of God through God's creation.
Video: Cowboy and Preacher with Q & A and discussion
This is a 2-part workshop with video followed by discussion that will be offered on Wednesday only. Tri Robinson, rancher and retired Vineyard pastor, recognizes that the Bible and the environment are by no means mutually exclusive. He has worked for decades to bring round his flock. He shows how and why Christians need to face the environmental challenges around us, and how in doing so Christians can find purposeful action and be reinvigorated as an active force for good on this issue, building bridges across social divides and presenting Christianity in its best light.
Living Their Legacy by Bernie and Snookie Brown
Bernie and Snookie are offering themselves to churches and other groups for a program that introduces Bernie's recent published intergenerational book, "The Gospel According to St. Bernard – Good News for the Grandkids from Pappy." The workshop will include some gospel and Christian music and an overview of the book, as well as Snookie and Bernie's witness and testimony concerning their desire to "live their legacy."
Respite Care by Patti Williams
Who would guess dementia families could be the next frontier of ministry? It is the faith-based army of volunteers that will embrace families living with dementia and let them know they are not forgotten. And who would guess that this ministry could breathe new life into your church? This workshop will discuss the brief history of the Respite for All Foundation which was developed in 2018 to inspire and replicate dementia ministries across denominational lines around the world. RFA has trained and supported 25 dementia communities across the country. Patti Williams is a leader in this budding organization and will speak from experience after creating one of the largest, most successful programs in the network at Canterbury United Methodist in Birmingham, Alabama. Patti will share:
• What is day to day Respite and the volunteer mindset
• How to begin a conversation with clergy and church leadership about dementia ministry
• Organizational ideas for your local church and Respite
• How to launch community dementia choirs, respite day programs and caregiver support groups
Schedule (Tentative)
Monday, August 1
5:30-6:30 p.m. – Dinner
7 p.m. – Concert: Marty Goetz – Stuart Auditorium
7 p.m. – Late Registration – Stuart Auditorium
Tuesday, August 2
6:45-7:30 a.m. – Lake Devotional Walk
7:30-8:30 a.m. – Breakfast
8:15-8:45 a.m. – Devotion and Holy Communion – White Lakeside Tent
8:45 a.m. – Gathering Music
9-9:45 a.m. – Keynote – Matthew Sleeth
10-11 a.m. – Workshop A
11-11:15 a.m. – Break
11:15 a.m.-12:15 p.m. – Workshop B
12:30-1:30 p.m. – Lunch
1:30-2 p.m. – Free time
2:30-3:30 p.m. – Afternoon Tea at Lambuth Inn Tentative
4-5 p.m. – Historic Boat Tour
Optional. Weather-Permitting. Additional Charge. Register at festival check-in.
5:30-6:30 p.m. – Dinner
6:45 p.m. – Gathering Music
7 p.m. – Worship
Wednesday, August 3
6:45-7:30 a.m. – Lake Devotional Walk
7:30-8:30 a.m. – Breakfast
8:15-8:45 a.m. – Devotion and Holy Communion – White Lakeside Tent
8:45 a.m. – Gathering Music
9-9:45 a.m. – Keynote – Matthew Sleeth
10-11 a.m. – Workshop C
11-11:15 a.m. – Break
11:15 a.m.-12:15 p.m. – Workshop D
12:30-1:30 p.m. – Lunch
1:30-2 p.m. – Free time
2-3 p.m. – Optional Learning Circles
4-5 p.m. – Book Signings
5:30-6:30 p.m. – Dinner
6:45 p.m. – Gathering Music
7-8 p.m. – Worship
8 p.m. – Walk/Ride to the Cross
Thursday, August 4
6:45-7:30 a.m. – Lake Devotional Walk
7:30-8:30 a.m. – Breakfast
8:45-9 a.m. – Gathering Music
9 a.m. – Sending Forth and Holy Communion
ACCOMMODATIONS & PRICING
The Full Festival Package for Aug. 1-4, 2022 includes:
Festival worship, plenary sessions, workshops and entertainment
Three nights of lodging at Lake Junaluska at The Terrace Hotel or historic Lambuth Inn
Eight meals beginning with dinner on Monday through breakfast on Thursday
Full Festival Package Pricing
Pricing for the full festival package varies depending on the number of people sharing a room and the hotel selected. There is additional savings if your booking is made by June 30. Sample prices for full festival packages range from $437 per person for double room occupancy at Lambuth Inn booked before June 30 to $696 for single room occupancy at The Terrace Hotel booked after July 1. Full festival packages can be booked online.
For information about triple and quad occupancy rates and arrangements, handicap-accessible accommodations or dietary modifications, call reservations at 800-222-4930 between 8 a.m. and 5 p.m. Please note Lake Junaluska does not assign roommates.
Program Only Option
A program-only option is available for $120 per participant for attendees who do not need lodging and meals. Program-only registration includes all festival worship, plenary sessions, workshops and entertainment. Program-only registration can be completed online. 

Nestled in the heart of Lake Junaluska, the lakeside Terrace Hotel is convenient to the Harrell Center, Stuart Auditorium and the Rose Walk. Come relax in a rocking chair on one of the balconies or read a book by the large fireplace in the spacious lobby.