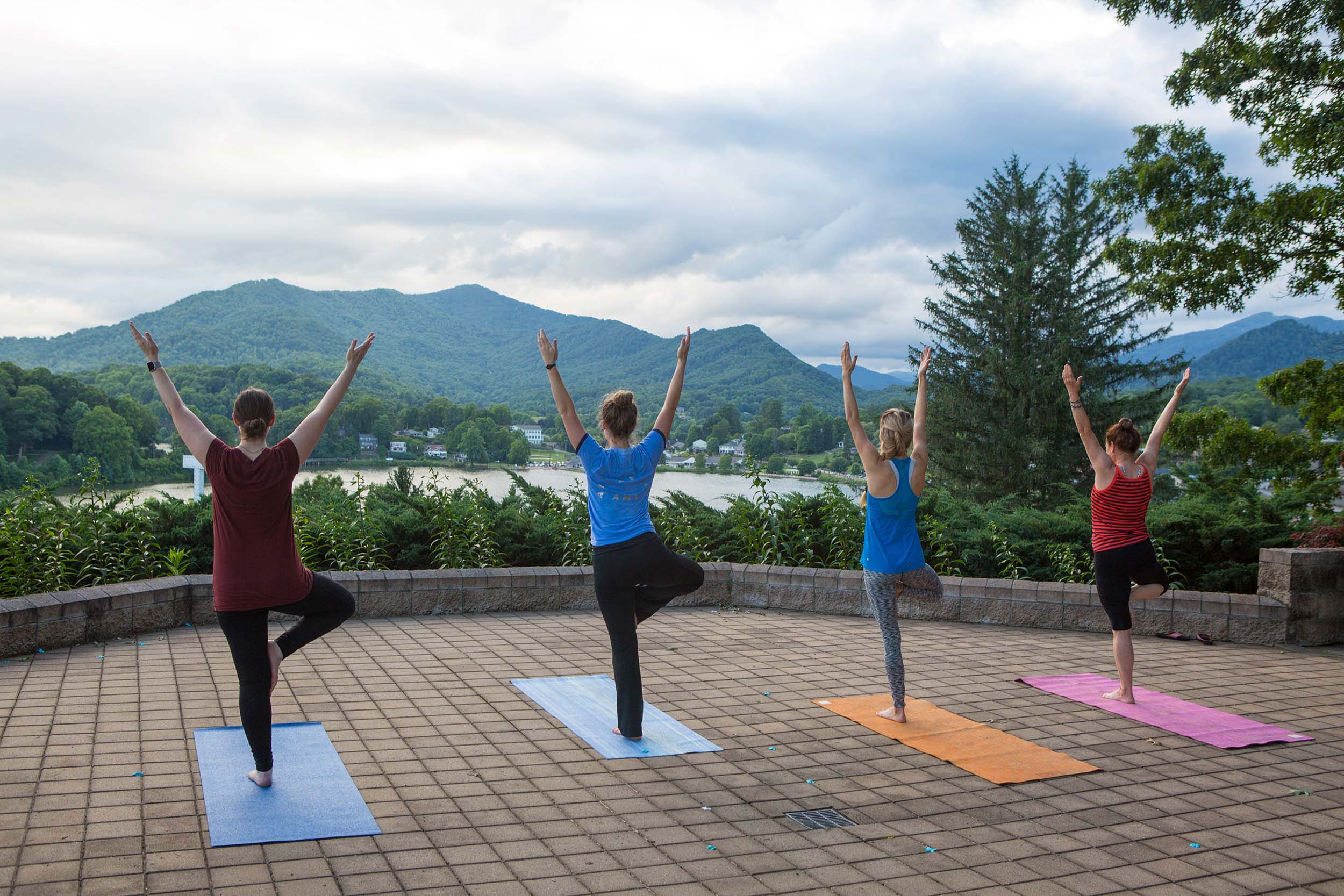 Yoga Retreats at Lake Junaluska are offered in partnership with Waynesville Yoga Center. Each themed retreat features daily workshops that focus on self-care and self-love, which are critical to keeping a much-needed sense of balance in today's world. The retreats take place at Lake Junaluska, a peaceful lakeside village-like conference and retreat center with stunning lake and mountain views. Participants enjoy comfortable accommodations and convenient amenities at the Lake, a soothing backdrop as you treat yourself to learning about the perfect prescription of movement and medicine.
2022 Retreats
Women's Retreat – May 15-18, 2022
Aging Gracefully Yoga Retreat – September 25-28, 2022
Please note the Yoga for Men: A Weekend Retreat and Bring Your Bestie Yoga Retreat will not be held in 2022.
Packages & Pricing
Packages with workshops, lodging and meals range from $714 to $942 (single/double occupancy) depending on the specific retreat. Program-only registration, which does not include lodging or meals, is $395. Enjoy an early bird discount of $40 if paid in full 60 days before the retreat!
Yoga retreat packages with lodging and meals include:
Accommodations at historic Lambuth Inn (September 25-28, 2022) or The Terrace Hotel (May 15-18, 2022)
Meals beginning with dinner on the first night through breakfast on the last morning
All yoga sessions and workshops
For more information, call 800-222-4930, email [email protected] or download the registration form.
Women's Yoga Retreat
May 15-18, 2022
With workshops to restore and rejuvenate so you can feel refreshed and rested, this retreat provides a specific time and place for you to join with the special females in your life.
Women's Yoga Retreat
Aging Gracefully Yoga Retreat
September 25-28, 2022
Come join us for a retreat focused on aging gracefully and maintaining your strength, mobility and agility for your highest quality of life.
Aging Gracefully Yoga Retreat