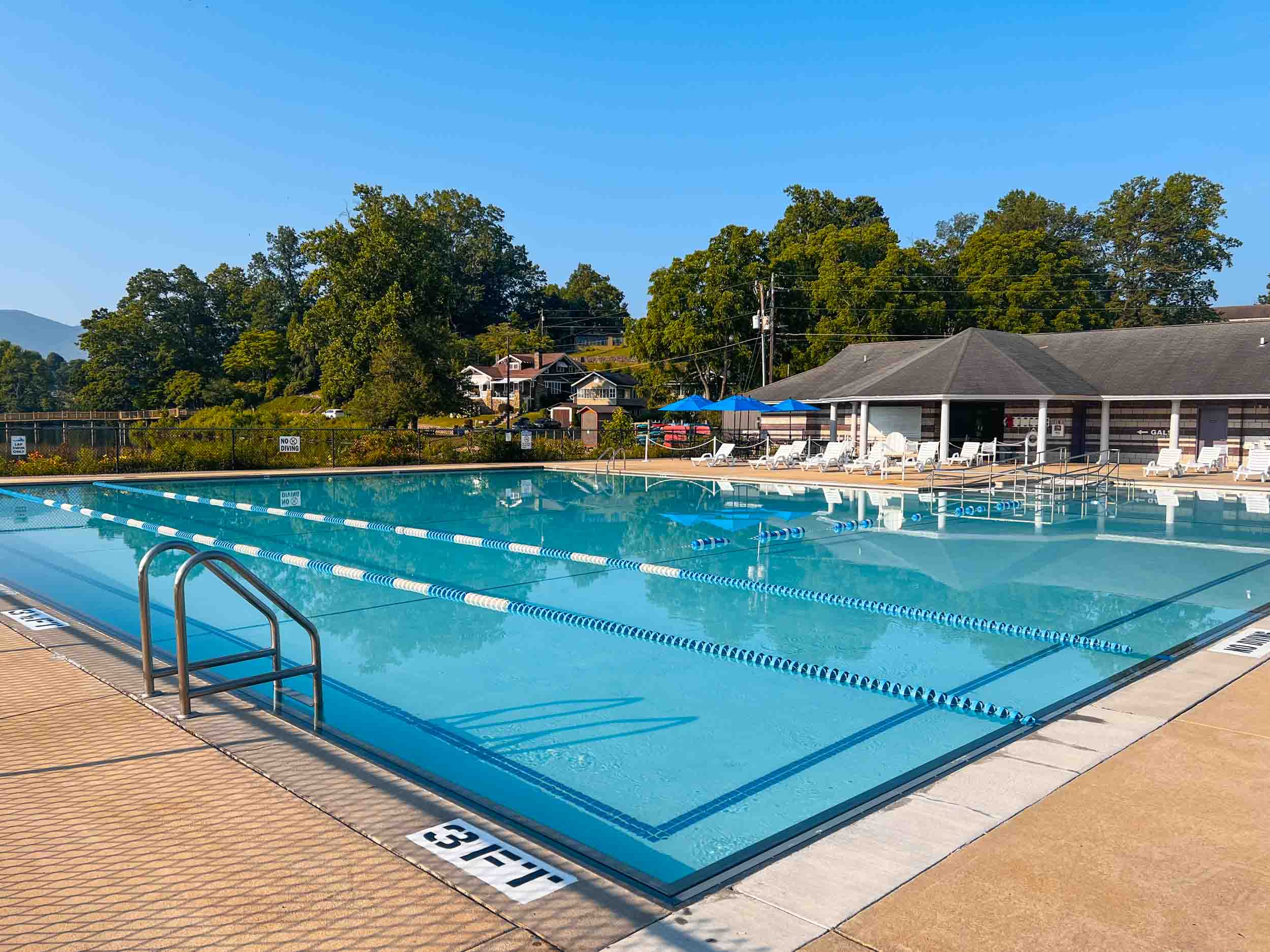 Soak up the summer sunshine and cool off at Lake Junaluska's outdoor lakeside swimming pool!
Late Summer Hours (Aug. 19-Sept. 4, 2023)

10 a.m.-8 p.m. Saturday & Sunday
4 pm.-8 p.m. Monday-Friday
On Labor Day, Monday, Sept. 4, the pool will be open from 10 a.m. to 8 p.m.
Please note the pool may close for private events on Sunday or Tuesday evenings. To contact Lake Junaluska Outfitters, call 828-454-6776.
Location
The lakeside pool is located at Lake Junaluska Conference and Retreat Center at 77 Memory Lane, Lake Junaluska, N.C.
Pricing
LODGING GUESTS – Lake Junaluska lodging guests enjoy complimentary access when the pool is open. Wear your wristband that was issued at check-in or show your Vacasa Rental Confirmation.
DAY PASSES – Day passes are $10 per person per day and include pool admission, a round of mini-golf, and an hour of shuffleboard/cornhole. Group pricing is $5 per person for each person after 10 people. Day passes can be purchased at the Outfitters window near the pool.
SUMMER ACTIVITY PASSES – Summer Activity Passes feature admission to the pool all season long. Learn more and buy a 2023 Summer Activity Pass online.
Subscribe to Pool Updates
Want to receive updates about the Lake Junaluska Pool including notification of pool closures? Subscribe to pool updates. 

Enjoy admission to the Lake Junaluska pool all season, dining and shopping discounts, and more with your Lake Junaluska Outfitters' Summer Activity Pass.  Buy your pass.
Host an event at the pool
Rent the Reserved Pool Area
A partially shaded area of the pool deck with tables and high-top tables that can comfortably seat up to 25 people will be available for 90-minute rentals at 10 a.m., 12 p.m., 2 p.m., 4 p.m. and 6 p.m. on days when the pool is open. Please note the pool will remain open to the public when the Reserved Pool Area is rented. To book a 90-minute rental of the Reserved Pool Area, visit the Lake Junaluska Outfitters window when the pool is open or visit our online store to book the private pool area.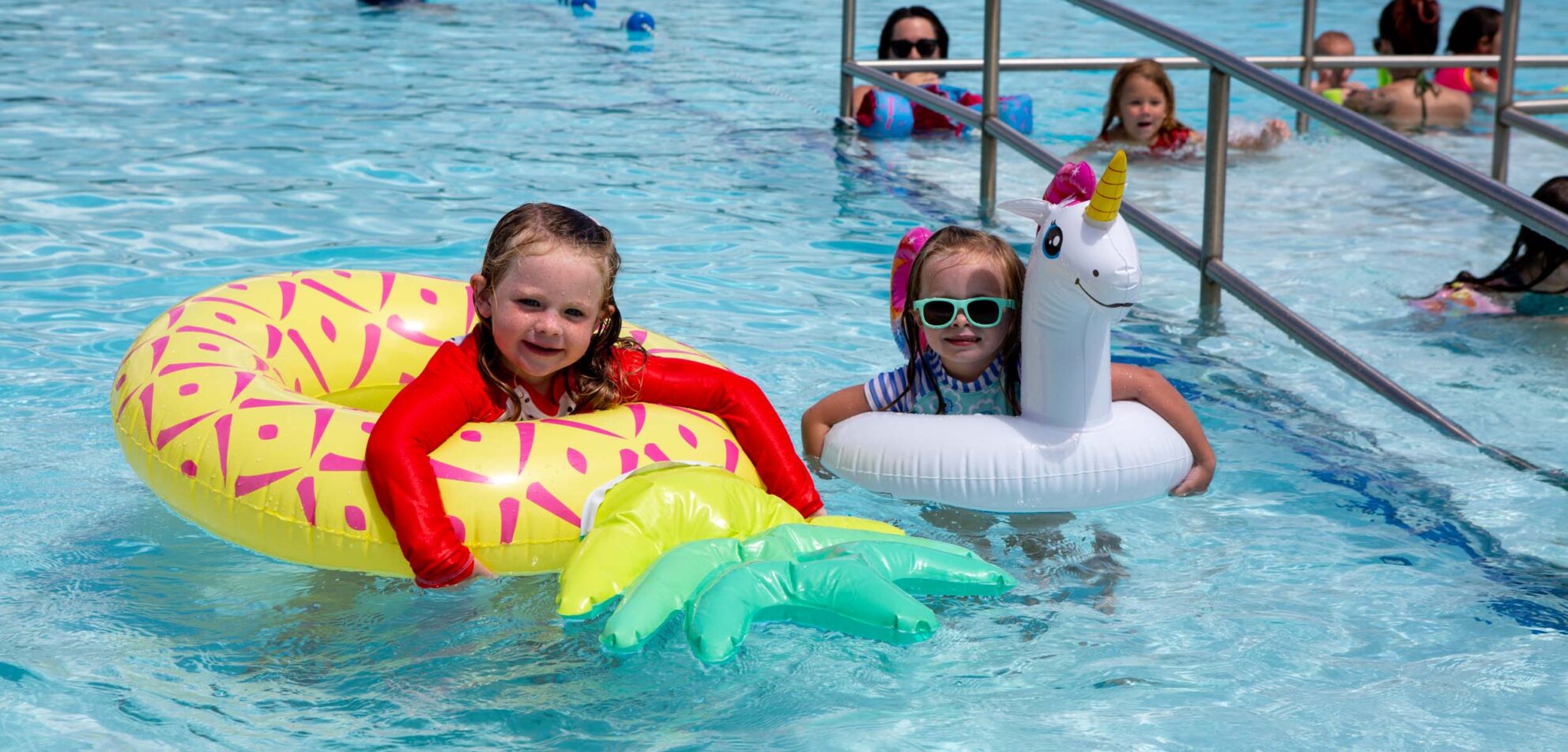 Book a Private Pool Event
Private pool events for 100+ people are $1,500 and may be held Sundays or Tuesdays from 6-8 p.m. During private pool events, the pool closes to the public and is open exclusively for guests attending your event. Please contact Group Sales at 828-454-6650 to book a private pool event.
Expand Please review the pool rules and regulations. content

Collapse Please review the pool rules and regulations. content

Please review the pool rules and regulations.

Children 16 and under must be accompanied by a parent/guardian.
Outside food is only permitted at the tables within the rentable private pool area and picnic tables.

Posted Pool Rules

All bathers must take a cleansing shower with warm water and soap before entering the pool.
A bather leaving the pool to use the toilet shall take another cleansing shower before returning to the pool.
Food or drink is prohibited in the pool water.
No glass allowed in the pool area.
Alcoholic beverages are prohibited.
Any person suspected of being under the influence of alcohol or drugs shall be prohibited from entering the pool.
Pets or any animals are not allowed in the enclosure except for service animals.
No running or horseplay on the pool deck.
Spitting, spouting water, or blowing the nose in the pool is prohibited.
No smoking except in designated smoking areas.