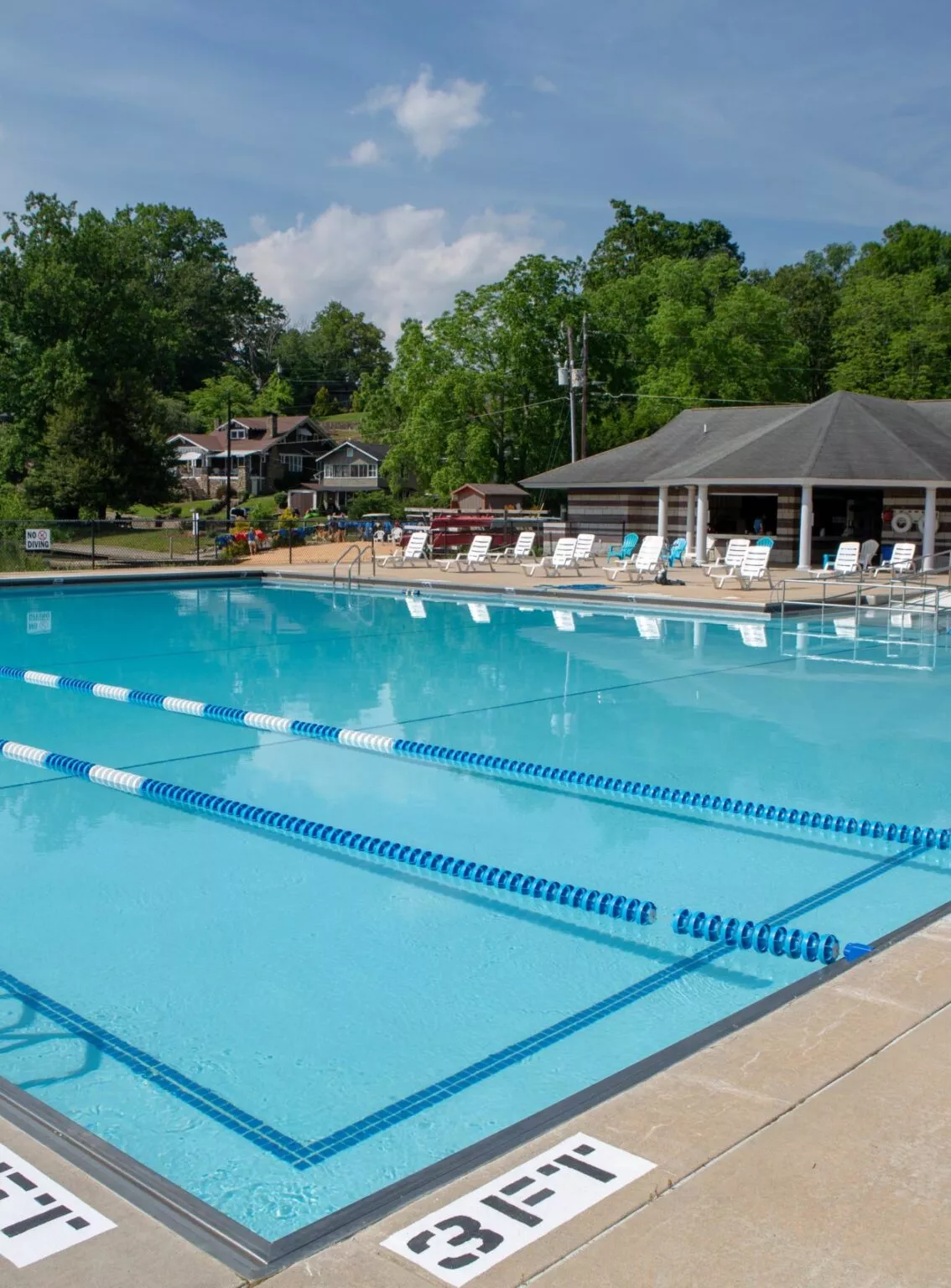 Soak up the summer sunshine and cool off at Lake Junaluska's outdoor lakeside swimming pool.
Hours
Our lifeguarded pool is open daily 10 a.m. to 8 p.m. from Friday, May 27, (Memorial Day weekend) through Monday, Sept. 5, (Labor Day), with possible closures for inclement weather and for private events on Sundays and Tuesdays from 6-8 p.m.
Location
The lakeside pool is located at Lake Junaluska Conference and Retreat Center at 77 Memory Lane, Lake Junaluska, N.C.
Pricing
Lake Junaluska lodging guests enjoy complimentary access. Lake visitors can purchase day passes or summer activity passes at the Lake Junaluska Outfitters window.
A daily activity pass, which includes all-day pool access, a round of mini-golf and an hour of shuffleboard or cornhole, is $10 per person per day or $30 for immediate family per day, with $5 per person after four people.
A Summer Activity Pass includes admission to the pool all summer long as well as other benefits. Passes range in price from $295 for 1-4 people to $385 for 6 people. Purchase online.
Pool pricing is $5/Person after 5 p.m.
Private Pool Events
Private pool events are $325 and may be held Sundays or Tuesdays from 6-8 p.m. To book a private pool event, call 828-454-6650.
Enjoy admission to the Lake Junaluska pool all season, dining and shopping discounts, and more with your Lake Junaluska Outfitters' 2022 Summer Activity Pass. Learn More.
Pool Rules
The following rules are posted at the Lake Junaluska pool. 
All bathers must take a cleansing shower with warm water and soap before entering the pool
A bather leaving the pool to use the toilet shall take another cleansing shower before returning to the pool
Food or drink is prohibited in the pool water
No glass allowed in the pool area
Alcoholic beverages are prohibited
Any person suspected of being under the influence of alcohol or drugs shall be prohibited from entering the pool
Pets or any animals are not allowed in the enclosure except for service animals
No running or horseplay on the pool deck
Spitting, spouting water, or blowing the nose in the pool is prohibited
No smoking except in designated smoking areas
Bathers must wear appropriate swim attire. Street clothes and shoes are not allowed in the water
Any person known or reasonably suspected to have a communicable disease; skin lesions; sore or inflamed eyes reasonably believed to have been caused by a communicable disease; or mouth, nose, or ear discharges, shall be restricted from using the pool
Any child not potty trained, must wear snug fitting plastic pants or a water resistant swim diaper
Children shall not use pool without an adult in attendance
Management has the right to ask any patron to leave for non-compliance with the above rules